Insiders Are Loading Up On These 3 Attractive Small Cap Stocks
After heading straight down in August and through most of September, the market bounced back in a big way in October with the main benchmarks ending up some eight percent for the month. It was the best monthly performance for stocks in many years and gets us up to basically flat line for 2015, other than the NASDAQ which is up better than six percent for the year.
However, over 50% of the stocks in the market remain under their 200 day moving averages despite last month's big rally. Large cap growth has definitely been the way to play the recent rise. The S&P 100 index has climbed more than a dozen percent off its low in late August. That is more than twice the five percent or so the small cap Russell 2000 has managed to post over that time frame.
Ever being a contrarian, this leads me to believe this recent divergence could be an investment opportunity. Small and mid-caps are less exposed to the weak global economic environment as well as the currency impacts from the strong dollar. It seems logical that once sentiment gets more positive on the high beta parts of the market like small caps and biotech and if the rally broadens, these small cap names could start to outperform their larger brethren once again.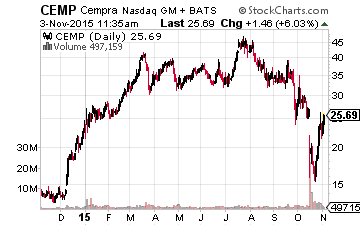 Looking to go hunting for bargains, I took a look at some attractive risk/reward plays that corporate insiders have been buying lately. Let's start with small biopharma play
Cempra Inc. (NASDAQ: CEMP)
The stock of this promising company was more than cut in half in the recent bear market in biotech and also due to one failed trial result. The shares have started to claw back some of those losses recently and two directors recently bought just under $50,000 of new shares.
Cempra is a clinical-stage pharmaceutical company focused on developing antibacterials to meet critical medical needs. The company has two lead antibacterial products, both in the treatment of infectious diseases (Solithromycin and TAKSTATM (CEM-102)). These compounds address the urgent and increasing need for new treatments targeting drug-resistant bacterial infections in both the hospital and the community.