Increased Interest Rates Could Give These Real Estate Stocks The Mortgage Rate Jitters
Written by SmallCapPower.com
The TSX real estate stocks on our list today could either benefit or suffer from increased interest rates; those that provide brokerage and lending services may see their returns increase; however, the ones on the development side who use financing for their operations will certainly experience the downside of rate hikes.
As the banks begin to raise their mortgage rates, one-by-one, real estate companies that borrow will start to feel the pinch. Increasing mortgage rates will ultimately lead to larger current liabilities for real estate companies, and they'll have to balance how much they pass down onto their tenants. If the real estate brokers tack on higher rental payments to cover their margins it may just push the small business owners out of the property.
[Given the above, the following] 4 TSX real estate stocks could get the mortgage rate jitters:

1. Colliers International Group Inc. (TSE:CIGI) (CIGI) – $47.11
Real Estate Services
Colliers International Group Inc. is engaged in the provision of commercial real estate services. The Company's primary services are outsourcing and advisory services, lease brokerage and sales brokerage. It provides services for sales, leases and mortgages in various areas, such as landlord representation, tenant representation, and capital markets and investment services. The Company's Outsourcing and Advisory Services Division provides corporate and workplace solutions; appraisal and valuation services; facility, property and asset management services; project management services, and research for commercial real estate clients.
Market Cap: $1,756.43(mm)
Net Asset Value – Actual (FY0, Millions, CAD): $207.99
Total Current Liabilities (FQ0, CAD, Millions): $567.38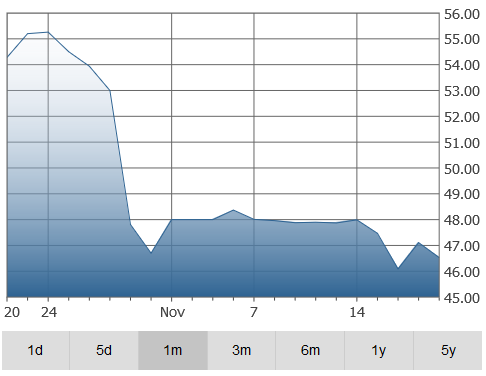 2. FirstService Corp. (TSE:FSV) (FSV) – $55.49
Real Estate Services
FirstService Corporation is a provider of residential property management and other essential property services to residential and commercial customers. The Company's operations are conducted in two segments: FirstService Residential and FirstService Brands. FirstService Residential is a property manager and provides a range of ancillary services primarily in various areas, including on-site staffing, including building engineering and maintenance, full-service amenity management, security, concierge and front desk personnel, and landscaping; banking and insurance products, and energy conservation and management solutions. FirstService Brands provides a range of property services through franchise networks and Company-owned locations.
This article may have been edited ([ ]), abridged (...) and/or reformatted (structure, title/subtitles, font) by the editorial team of munKNEE.com (Your Key to Making Money!) to provide a faster ...
more