Housing Market Review – Prices Are Still Too High
I saw a flicker of hope for home builders in the May Housing Market Review. Traders decided to snuff that flicker out very quickly afterward. When I wrote June's housing market review and described a "struggling flicker," the iShares US Home Construction ETF (ITB) was once again bouncing off the bottom of 2018's trading range. By the time of the September Housing Market Review, ITB was precariously holding onto its trading range. October ushered in a complete collapse that was very plunge-worthy. ITB gained 3.8% in November in a small sign of stabilization that looked like a successful test of the October low. The declining 50-day moving average (DMA) held as resistance and led to a resumption of the sell-off in December. ITB at one point hit a new 23-month low on Christmas Eve last week.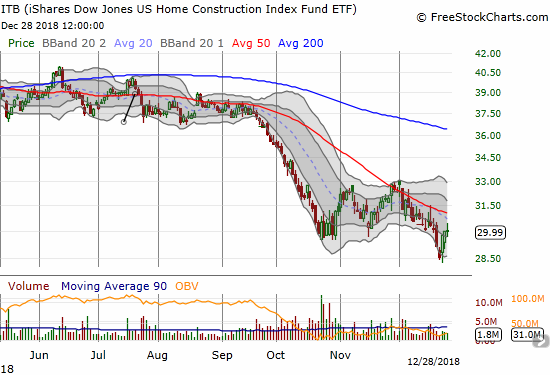 The iShares US Home Construction ETF (ITB) bounced off a 23-month low but overhead resistance still looks tough to beat.
Two of the better performing home builder stocks are Pulte Homes (PHM) and LGI Homes (LGIH). PHM has recovered well from a 20-month low in October. The stock out-performed in December as the rest of the stock market sold-off. also printed a low in October and, like PHM, even trades above its 50DMA. Both stocks form part of the seasonal trade I expanded in November.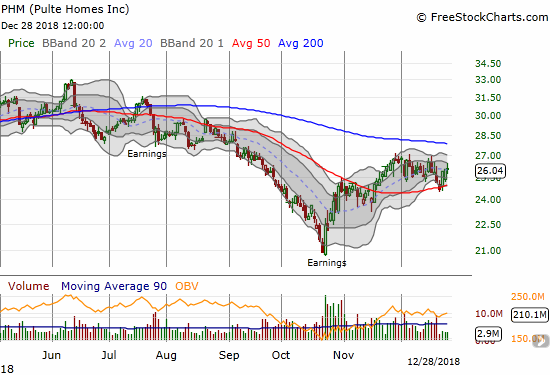 Pulte Homes (PHM) is down just 1.8% in December and even successfully tested support at its 50DMA.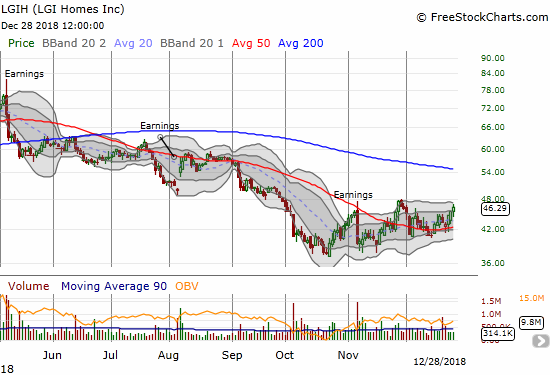 LGI Homes (LGIH) is flat for December and held 50DMA support throughout the month.
Toll Brothers (TOL) is actually UP 0.7% in December and looks like it is trying to stabilize after sharply rebounding from a large post-earnings gap down to start the month. I will buy the stock if it can close above its post-earnings intraday high.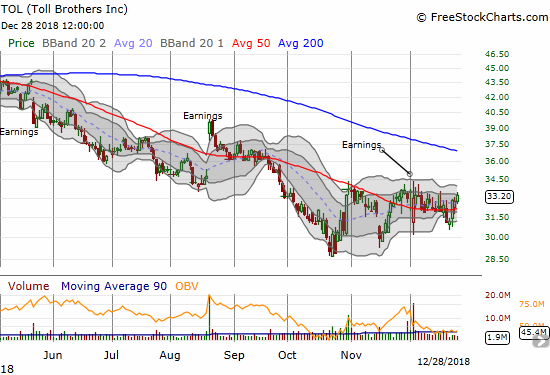 Toll Brothers (TOL) looks like it is stabilizing as it pivots around its 50DMA for two months running.
The deteriorating conditions in the housing market caught the notice of the Federal Reserve per the minutes from the November meeting. However, surprisingly, the Fed had nothing to say about housing in its December statement on monetary policy. During the press conference, only ONE person asked about housing. Federal Reserve Chair Jerome Powell clearly avoided even saying the word "housing." From the transcript:
"STEVEN BECKNER….The 10-year note yield has gone down pretty steeply, roughly 50 basis points, I think, in recent weeks. I wonder what you make of it. Is it a worrisome sign for you in terms of the outlook for growth, for inflation? On the other hand, could it be a positive, in terms of presumably bringing down mortgage rates and helping the housing sector?

CHAIRMAN POWELL. Again, we do focus on a broad range of financial indicators, and I—really, we don't obsess about any particular one. You know, we look at a whole range of them, and we ask ourselves, what's really going on in the broad picture out there?…As I mentioned, our forecast for next year is—I think, in keeping with most other forecasts—is that we'll still have solid growth next year, declining unemployment, and a healthy economy."
In the last Housing Market Review, I stated "I am sure the wording will be carefully crafted to avoid creating panic about the housing market." THIS kind of omission goes too far in trying to avoid panic; this approach is borderline negligence. Prices must not yet be low enough to get the Fed's focus. I eagerly await the minutes of the December meeting to see whether Fed members have advanced their thinking on the health of the housing market but have just not made that health a core part of policy or economic forecasting.
New Residential Construction (Single-Family Housing Starts) – November, 2018
While housing starts surged in May and left no doubt that home builders were confident as ever, the subsequent plunge in housing starts in June appeared to temper that enthusiastic interpretation. From July to October, housing starts seemed to stabilize. However, November's decline likely confirmed that housing starts have topped out for the foreseeable future.
Single-family housing starts for October were revised slightly downward from 865,000 to 864,000. November starts decreased month-over-month by 4.6% to 824,000. On an annual basis, single-family housing starts plunged by 13.1%. This decrease is the fourth in the last six months. The depth of this decline confirmed the rapid drop in home builder sentiment (see below) and is the worst since starts were regularly dropping double-digit percentages in 2011. This sharp decline is also a natural conclusion to the deceleration in housing starts I noted through much of 2018.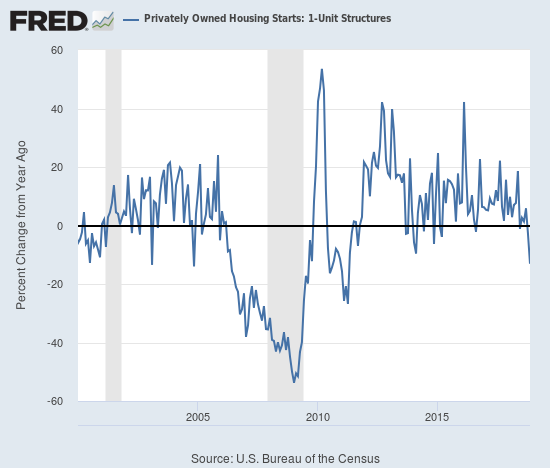 The growth in housing starts just slammed into a wall as November's year-over-year plunge reaches back to 2011's kind of declines.
Source: US. Bureau of the Census, Privately Owned Housing Starts: 1-Unit Structures [HOUST1F], retrieved from FRED, Federal Reserve Bank of St. Louis, November 20, 2018.
June's year-over-year decline was the first for housing starts since August, 2016, and June's level sat as the lowest of the year until November's plunge. In the last Housing Market Review I ascertained that the recent annual declines were relatively significant. I concluded that a fundamental change had arrived. I am no longer correct about a slow motion breakdown; the breakdown is now break neck in speed.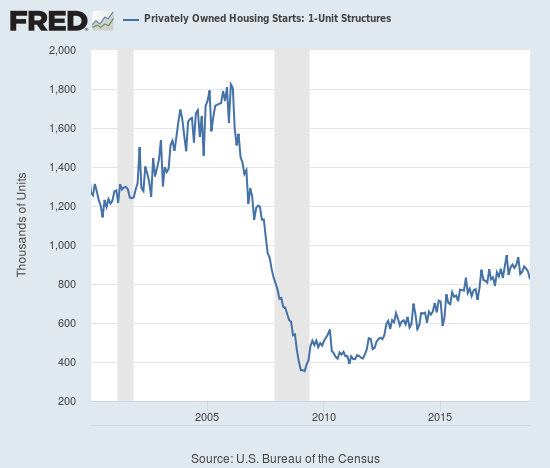 A top in housing starts looks more evident with numbers back to levels last seen in the first half of 2017.
Source: US. Bureau of the Census, Privately Owned Housing Starts: 1-Unit Structures [HOUST1F], retrieved from FRED, Federal Reserve Bank of St. Louis, December 26, 2018.
Over the 8 months prior to May, regional year-over-year changes in starts exhibited wide dispersion. For May, housing starts were very strong across the board. The dispersion returned in July. In November, three of the four regions experienced sharp declines led by the West. The Northeast, Midwest, South, and West each changed 8.1%, -13.0%, -11.3%, and -22.7% respectively.
Disclosure: Long ITB calls, long PHM, long LGIH
Follow Dr. Duru's commentary on financial markets via more