Housing Market Review – A Wobbly Edifice As Builders Break Down And Data Weaken
I saw a flicker of hope for home builders in the May Housing Market Review. Traders decided to snuff that flicker out very quickly afterward. When I wrote June's housing market review and described a "struggling flicker," the iShares US Home Construction ETF (ITB) was once again bouncing off the bottom of 2018's trading range. That last rally hit a wall at the 200-day moving average (DMA). With ITB once again trying to bounce off the 2018 low, the trading range looks intact but signs are growing of an underlying bias to a breakdown.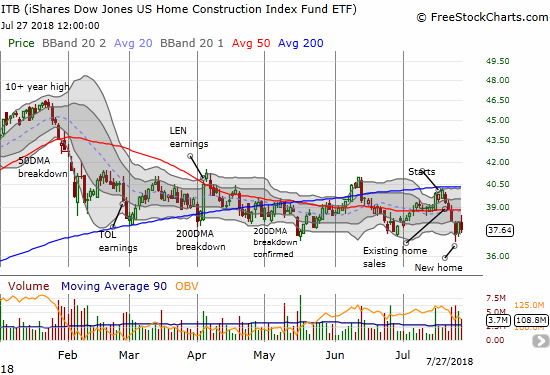 The iShares US Home Construction ETF (ITB) continues to bounce along the 2018 lows as its 200DMA slowly transitions from pivot to resistance in the middle of a trading range.
The chart shows the deeply negative reactions to the latest round of collective housing data. Prior to July, the reaction to the earnings report of home builders held larger sway on ITB. This time around, the economic data took on at least as much significance as the earnings data. Moreover, the reaction to earnings was surprisingly and sharply divergent.
On the positive side, D.R. Horton (DHI) overcame the recent sharp sell-off in home builder stocks to soar 11.6% in the wake of its latest earnings report. Only 200DMA resistance slowed down the follow-up buying.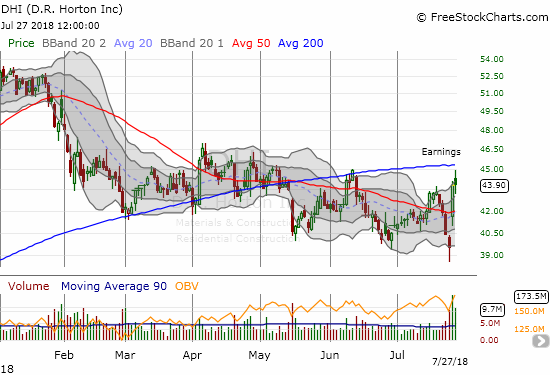 Earnings for D.R. Horton saved it from a major breakdown to a fresh 10-month low. Can the stock next overcome 200DMA resistance?
Pulte Home (PHM) initially sold off to a new 10-month low. Perhaps aided by the strong rally in DHI, PHM recovered sharply. However, sellers returned on Friday and closed the stock just above the lows for 2018. PHM has been a particular disappointment since a promising breakout in June and then the last rally which seemed to recover the rising 200DMA pivot.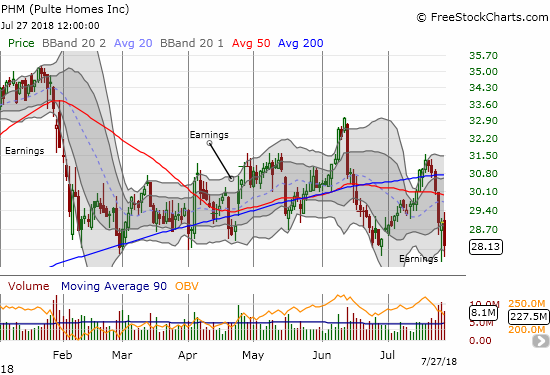 Pulte Home is precariously close to a major, and very bearish, breakdown to new multi-month lows.
The earnings for Meritage Homes (MTH) got a reception similar to PHM's earnings. The follow-up selling on Friday was much milder, increasing the odds ever so slightly that MTH may find a bottom with its latest earnings report.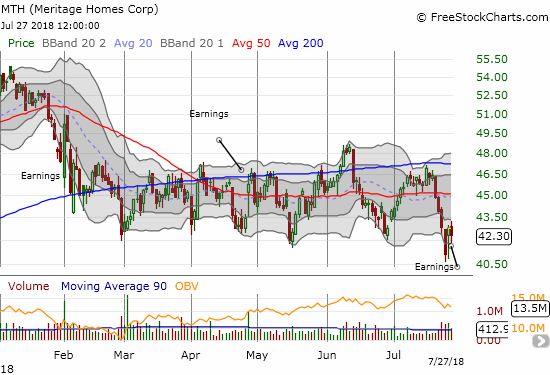 Meritage Homes broke down below its trading range only to get "saved" by its earnings report.
TRI Pointe Group, Inc. (TPH) got the worst reception of all for home builder earnings last week. TPH plunged 7.7% on extremely high volume, including the high-volume selling that preceded earnings. The stock confirmed a bearish breakdown from 200DMA support. TPH now sits near an 11-month low and is close to reversing all its gains from the October breakout.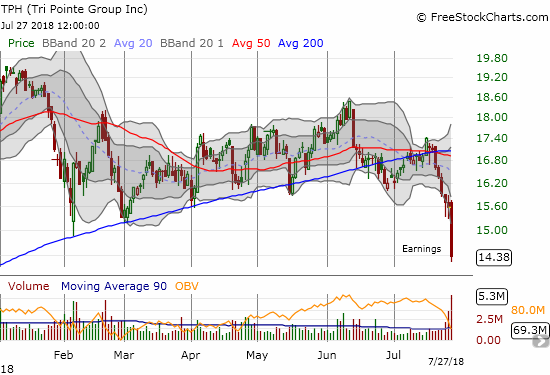 Sellers slammed TRI Pointe Group into a bearish confirmation of a major 50/200DMA breakdown and resistance.
Two major builders had important breakdowns last week without requiring a special kick from earnings: KB Home (KBH) and Toll Brothers (TOL). Both stocks confirmed ongoing downtrends for 2018.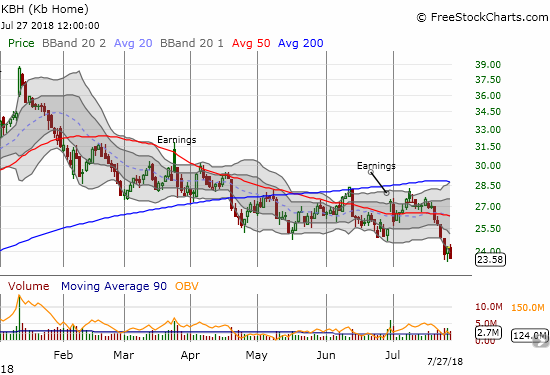 KB Home suffered a major and bearish breakdown last week. KBH closed near a 10-month low which aligns with the pop the stock got from October earnings.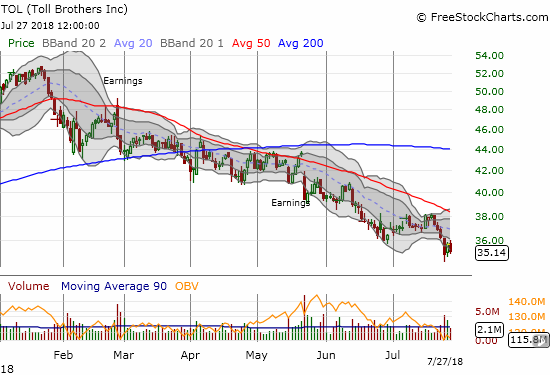 Source for stock charts: FreeStockCharts.com
Toll Brothers has become one of the worst relative performers in the home builder group. Its breakdown took the stock to a 16-month low. It closed at a 15-month low. The big October, 2017 breakout is a distant memory.
Even performance leader LGI Homes (LGIH) trades at a near 10-month low. Investors are clearly closing calibrating their selling across the sector with so many stocks around 9 to 11 month lows. From the technical perspectives of the components, ITB looks like an index doomed to set lower lows in due time. Along with this bearish trading action, the market continues to express its disbelief in any good news from home builders and continues to anticipate a bearish turn in the housing market data. Collectively, July's housing market data may have delivered the first definitive signs of that turn.
New Residential Construction (Single-Family Housing Starts) – June, 2018
While housing starts surged in May and left no doubt that home builders were confident as ever, the subsequent plunge in housing starts in June appear to temper that enthusiastic interpretation.
Single-family housing starts for June were revised upward from 936,000 to 944,000, a third straight month of significant upward revisions. Still, June starts plunged month-over-month by 9.1% to 858,000, the lowest level of the year. On an annual basis, single-family housing starts were practically flat at a -0.2% change. This drop is the first year-over-year decline since a 2.0% decline in August, 2016.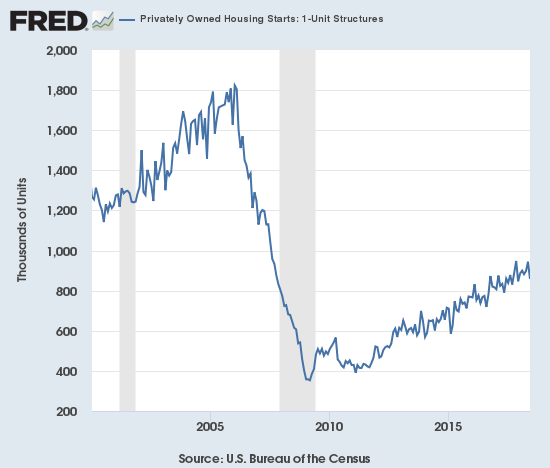 Source: US. Bureau of the Census, Privately Owned Housing Starts: 1-Unit Structures [HOUST1F], retrieved from FRED, Federal Reserve Bank of St. Louis, July 26, 2018.
Suddenly, it looks like time is running out for housing starts to surpass 2017's peak by year-end.
Over the 8 months prior to May, regional year-over-year changes in starts exhibited wide dispersion. For May, housing starts were very strong across the board. For June, the Midwest stood out as a large loser. The Northeast, Midwest, South, and West each changed 6.3%, -17.0%, 3.1%, and 1.4%. In other words, the headline slowdown in starts was largely driven by the particularly poor performance of the Midwest region.
Disclosure: long ITB calls, long MTH calls, long PHM calls
Follow Dr. Duru's commentary on financial markets via more