E

Fantasy Prices For Real Estate
The house is currently off the market. Again.
Below is a chart of estimated values for the house going back to 2015.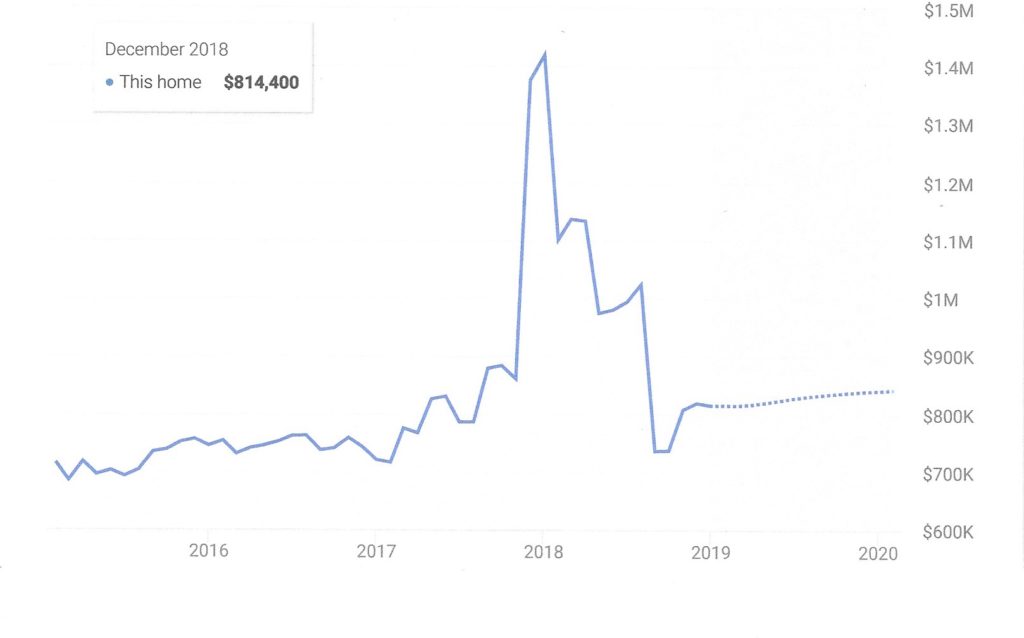 At the time of the original listing ($749,900) in August 2017, the estimated value of the house was $878,600. Which might lead one to believe that the house was listed for a quick sale.
I don't know if that was the thought at the time the house was listed, but I'm sure the owner was hoping to rid himself of a huge burden because of the impending doubling of his payment a couple of months later.
An offer was not forthcoming, however. And, yet, within a few short months, the estimated value of this home soared to $1,400,000! Even more incredible, nearly all of that increase incurred in one month.
The estimated value of the house in October 2017 was $860,000. In November 2017, the estimated value was $1,376,000. There are no fundamentals which support that kind of increase.
Somewhat ironically, our beleaguered owner had lowered his asking price that same month to $649,900.
We might wonder whether there was faulty input which led to the radical change in estimated value, or whether there was something unique to this particular property which led to such a huge increase.
But the increase was not entirely inconsistent with the prevailing activity and attitudes at the time; both in general and specific terms. The house is located in a gated community that saw its own new construction of units higher than at any time in recent years. And this was within the context of a broader, favorable real estate climate locally and nationally. And other houses showed similar spikes in estimated values.
But, while a small flurry of interest in viewing the property came shortly after, there was not much to get excited about. In fact, as we already know, the only offer received was for $550,000 in February 2018.
As you can see in the chart above, the (mis)pricing comedy continued. The estimated value had fallen from a peak of $1,400,000 in January 2018 to $1,136,000 in February 2018, the same month that the offer of $550,000 was received.