Best In Class REIT Trading At Historically Cheap Price
For long-term investors, now is an excellent time to buy leading businesses, with the cash flows and balance sheet to survive the downturn, at significant discounts. Investors overlooking Simon Property Group (SPG: $56/share) are in the Danger Zone. Investors willing to lift their gaze past the (inevitable and steep) dip in economic activity should consider this Long Idea for their portfolio.
SPG's History of Profit Growth
SPG is down 62% year-to-date (YTD) and trades below its economic book value, or no-growth value, for the first time in the history of our model (dates back to 1998). The stock also currently offers a 15% dividend yield, and though that yield will likely drop in the near-term, it will remain higher than most. It's not often investors get the opportunity to buy the strongest firm in an industry at such a discounted price.
Prior to the COVID-19 outbreak, SPG had a strong history of profit growth. Over the past decade, SPG grew revenue by 4% compounded annually and core earnings[1] by 23% compounded annually, per Figure 1. SPG has grown revenue by 6% compounded annually and core earnings by 11% compounded annually over the past two decades. The firm increased its core earnings margin year-over-year (YoY) in nine of the past ten years and its core earnings margin of 38% in 2019 is up from 8% in 2009.
Figure 1: SPG Core Earnings & Revenue Growth Since 2009
(Click on image to enlarge)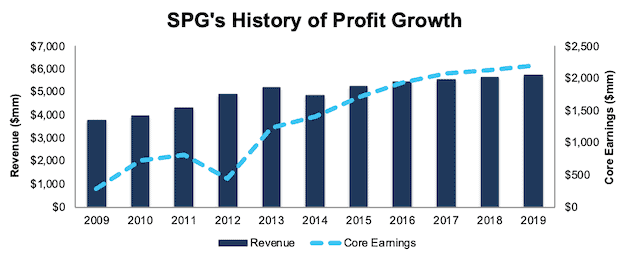 Sources: New Constructs, LLC and company filings
SPG leverages its strong retail portfolio and rising profitability to generate significant free cash flow (FCF). The company generated positive FCF in eight of the past 10 years and a cumulative $14.8 billion (79% of market cap) over the past five years. SPG's $3.7 billion in FCF in 2019 equates to a 9% FCF yield, which is well above the Real Estate sector average of 0%.
Strong Balance Sheet Provides Ample Liquidity and Showcases Strength of Business
Simon Property Group recently announced that it amended and extended its existing $4 billion credit facility with a $6 billion credit facility, which may be increased to $7 billion. The facility includes a $4 billion revolving credit facility and a $2 billion term loan facility. The interest rate under the amended revolving facility was reduced to LIBOR plus 70 basis points from LIBOR plus 77.5 basis points.
In other words, SPG was able to attract more debt investors at a lower interest rate - a direct testament to the strength of SPG's business in this volatile market.
As SPG's CEO, David Simon, noted, "the newly refinanced $6 billion credit facility and term loan enhances our already strong financial flexibility, and when combined with our existing $3.5 billion senior unsecured credit facility provides us with $9.5 billion of total credit capacity."
Further, SPG's debt maturity profile is spread over multiple years, with just $3.2 billion maturing in 2020. If needed, SPG's debt maturity in 2020 could easily be covered by their new credit facility even if rent payments dried up for the entirety of the year.
Own the Best - SPG Is the Most Profitable Mall Real Estate Investment Trust (REIT)
Before the stay-at-home and lockdown orders were issued across the globe, SPG's profitability was trending higher while peers' was declining. This superior profitability is a testament to the strength of SPG's portfolio of malls and premium outlets and management's capital allocation skill. We expect that SPG's portfolio will return to its industry-leading ways once the COVID-19 restraints are lifted and consumers can shop, eat out, and enjoy social activities again.
Per Figure 2, SPG's net operating profit after-tax (NOPAT) margin improved from 56% in 2015 to 58% in 2019. Meanwhile, the market-cap-weighted average NOPAT margin of SPG's mall REIT peers has fallen from 33% to 29% over the same time. NOPAT is our adjusted version of funds from operations (FFO). Peers in the group include CBL & Associates (CBL), Pennsylvania Real Estate Investment Trust (PEI), Taubman Centers (TCO), The Macerich Company (MAC), Washington Prime Group (WPG), and Tanger Factory Outlet Centers (SKT).
Figure 2: SPG's NOPAT Margin Vs. Peers
(Click on image to enlarge)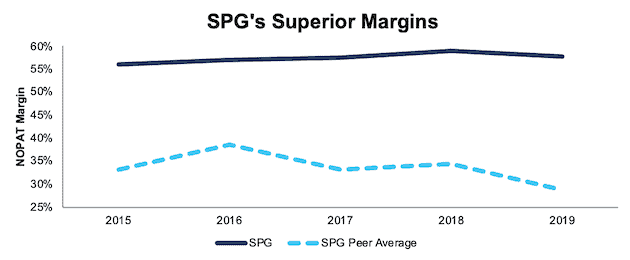 Sources: New Constructs, LLC and company filings.
SPG's capital efficiency is also well above peers'. Per Figure 3, SPG slightly improved its invested capital turns from 0.19 in 2015 to 0.20 in 2019. Meanwhile, the market-cap-weighted average invested capital turns of peers remained stagnant at 0.14 over the same time.
Figure 3: SPG's Invested Capital Turns Vs. Competitors
Disclosure: David Trainer, Kyle Guske II, and Matt Shuler receive no compensation to write about any specific stock, style, or theme.