5 Stocks To Buy Before Potential Dividend Increases
A surprise dividend increase announcement from any of these five stocks could be the beginning of a yearly trend of accelerating dividend payments and share price gains. With the increases expected over the next couple months, investors who purchase before the news will only increase the potential for returns from these stocks.
My research for income stock investment prospects primarily focuses on companies that have historically announced and paid regular dividend increases. As the saying goes, no dividend is as safe as the one that has just been boosted to a higher rate. However, I do maintain a list that I regularly check in on of income stocks that have the potential to resume or start a growing dividend pattern.
In total, there are about as many dividend timing and growth strategies as there are companies that pay dividends. When you find the pattern of a specific income stock, you can use that information to buy when prices are cheap and then sit back and enjoy the share price gains when the rest of the investing public catches up with the facts that led to your share purchase. Listed below are five real estate investment trust (REIT) stocks that have the potential to announce unexpected dividend increases at some point during the next several months. A surprise dividend increase announcement should lead to share price gains as well as a higher yield for investors who bought in before the news.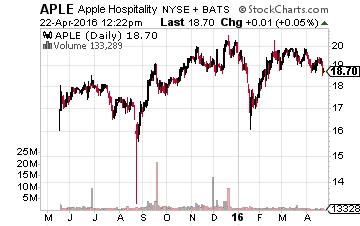 Apple Hospitality REIT Inc (NYSE: APLE) is a hotel/lodging REIT that came to market with a May 2015 IPO. Since the IPO, APLE has declared 12 straight monthly dividends of $0.10 per share. Over the course of 2015, the company grew EBIDTA by 13.7% and modified funds from operations (FFO) per share by 12.9%. The current dividend rate is 85% of the reported 2015 fourth quarter FFO, so any dividend increase will be moderate. The company could announce a one-quarter or one-half cent increase to the monthly payout to show the company is focused on generating dividend growth. APLE currently yields 6.3%.
Disclosure: There are currently over twenty of these stocks to choose from in my more