3 Must-Own High Growth Low Volatility Stocks
We have a conundrum on our hands. Low volatility investing has gone mainstream. Low volatility funds are expected to see record inflows in 2016 as investors look for new ways to outperform the market.
The idea is that stocks that fluctuate less than the overall market tend to outperform. And it works. Low volatility stocks have managed to outperform the S&P 500 by 13% over the last five years.
Basically, what's happening is that "risk" is no longer directly linked to reward. These days, you can invest in lower risk and lower volatility stocks and still outperform. Plus, it's an extra benefit if you can find a few low volatility growth stocks offering dividends.
But finding high growth stocks with low volatility isn't easy. By definition, growth stocks are generally more volatile. However, it's not impossible. It does involve looking to some unique areas of the market. One key is that safe high growth dividend payers won't show up on the typical value screens.
Here are the top three safe high growth stocks in the market today:
Beat the Market With Safe High Growth Stock No. 1: Bristol-Myers Squibb (NYSE: BMY)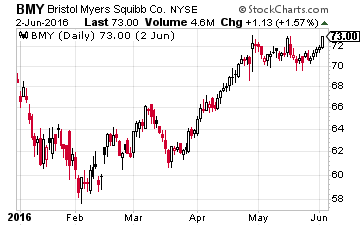 It might be hard to see how you can expect growth from a $120 billion market cap healthcare company, but bear with me. The pharma giant is expected to see some impressive growth following 2016. A majority of its patent losses will finally be behind it and its key cancer drug, Opdivo, will move into the lung cancer market. With that, it's expected to grow earnings by over 20% a year for the next five years.
This drug maker also has one of the lowest betas in the market, coming in at 0.5. Thus, theoretically, for every $1 that the broader market falls, shares of Bristol-Myers should only fall by 50 cents. Its 2.1% dividend yield helps protect on the downside as well. The pharma company has managed to increase its dividend payment for six straight years.
Bristol Myers is growing into a specialty pharmaceuticals company targeting cancer and immunology. An area that the FDA has shown a preference to. Plus, the FDA has been aggressively approving drugs in this market. As well, cancer drugs tend to have more pricing power. Meanwhile, Bristol Myers has been shedding underperforming units, including diabetes and wound-care.
Disclosure: You could collect an average of $3,268 in extra monthly cash with ...
more