3 Dividend Growth Stocks With Strong Buy Recommendations
The big Wall Street stock analysis firms are starting to make strong buy recommendations on selected stocks in the beaten down energy infrastructure sector. On the flip side, equity REITs have been the hot stock sector over the last few months and for 2016 to date. Now may be the time to make a strategic portfolio shift by selling some of your REITs to lock in some profits and buying energy infrastructure stocks to generate a higher current yield and dividend growth.
Both equity (property owning) REITs and energy infrastructure stocks offer similar investment opportunities. Both types typically pay out a majority of cash flow as dividends/distributions, and with the better companies, investors will see those dividends grow over time. The energy infrastructure group consists primarily of businesses organized as master limited partnerships (MLPs). The combination of above average current yield and growing dividend rates should produce above average total returns. At various times in their respective market cycles, both REITs and MLPs have done just that.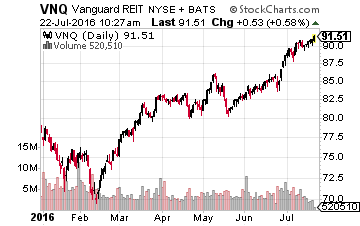 The REIT sector hit a bull market high in late January 2015 and then the group went into a steady decline that bottomed in early September, about 20% below the peak earlier that year. REITs tested the bottom again during the January-February 2016 correction. Since the February trough, REITs have gained over 25% plus dividend earnings. The REIT index and ETF values have now exceeded the January 2015 highs. Investors who bought REITs any time between late last summer and through February of this year are sitting on very nice gains. The flip side of higher prices for dividend paying stocks is a lower current yield.
For example, the Vanguard REIT Index Fund (NYSE: VNQ) website reports a current unadjusted effective yield of less than 3.5%. Six months ago, the yield was around 4.25%. Going forward, the total returns from REITs will be lower just because of the lower current yield.
The energy infrastructure MLPs are emerging from a bear market driven by the crash in energy commodity prices that started in the Fall of 2014. The drop in both energy prices and onshore oil and gas production hit the MLP and related companies sector hard. MLP index values dropped by more than 50% and a significant number of companies were forced to reduce or suspend distribution payments. Now, a year-and-a-half after the energy bear market started, we have a much-changed group of energy infrastructure companies. A handful of the largest, most financially secure companies have proven they can grow revenues and distributions through one of the worst periods in the sector's history. As we move forward, I expect these companies to start picking off the assets of their less strong competitors.
Disclosure: There are currently over twenty of these stocks to choose from in my more