Play The Odds: Avoid Gambling In Rigged Markets
Is America becoming a nation of gamblers?
The lure of potential cash windfalls is driving rampant speculation in financial markets and record traffic to casinos.
The commercial gaming industry generated a record $13.6 billion in revenues during the second quarter, according to the Las Vegas Review-Journal. Casinos in Las Vegas, Massachusetts, Louisiana, and elsewhere now expect 2021 to be their best year ever.
On the flip side, since all games on a casino floor are rigged in favor of the house, it's a good bet that gamblers are losing record amounts of money.
They'd have better odds throwing their cash haphazardly at financial markets, where the rigging is less blatant.
That's not to suggest that it's prudent to put your financial future on the line in any casino, whether operating in Las Vegas or on Wall Street. A sound investing strategy won't necessarily bring you jackpot gains, but it will protect you from disastrous losses.
In an era of unsound money and Federal Reserve bailout stimulus, the lines between investing, speculating, and gambling are getting blurred. No doubt, many people believe that "HODLing" crypto tokens on their smartphone apps makes them savvy investors.
In reality, the only people who are generating steady cashflow every day from crypto trading are the brokerages and exchanges who take a cut of the action. According to the Wall Street Journal, Robinhood charged customers $233 million in fees for routing cryptocurrency trades – with most of the volume occurring in Dogecoin.
Profits will be won and lost by players in the game of trading digital assets, but the house wins regardless.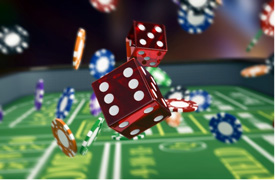 Casino gamblers who want to give as little back to the house as possible choose bets with the lowest house edge. It can vary from as high as 15% on some slot machines and side bets at table games to as low as 1% on blackjack, baccarat, and certain video poker machines when played with a proper strategy.