Plant-Based Milk IPO Puts Dairy Alternatives In The Spotlight
Milk alternatives are the biggest plant-based category in the US and the EU
(Click on image to enlarge)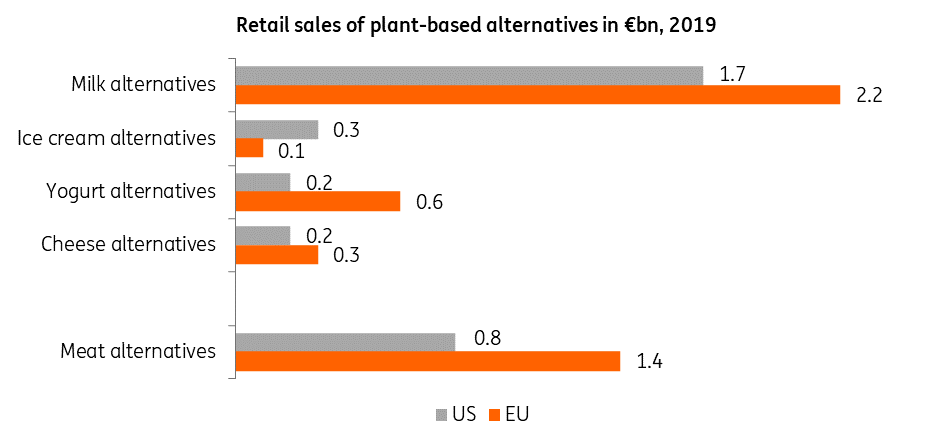 GoodFood Institute, Euromonitor, ING Research
Dairy alternatives can become five billion market in EU in 2025
We have shown earlier the growth potential of plant-based dairy and meat products. Still, the main challenge for plant-based producers is to bring down the price gap compared to meat and dairy products, improve aspects like taste and texture and increase availability.
Many consumers in the US and the EU haven't purchased a plant-based beverage before. Household penetration for plant-based drinks in key markets in the EU ranges from 30 to 50%, which is still much lower than for milk, which is greater than 90%.
If these companies succeed, we expect the European market for dairy alternatives to develop from a 3 billion EUR market in 2019 into a 5 billion market in 2025. Both an increase in household penetration of plant-based drinks and the possibility to branch out to adjacent categories like spreads, yogurt, and ice cream are expected to support his growth.
Sales of dairy alternatives in EU + UK forecasted to rise to 5 billion in 2025​
(value of retail sales in EU and UK, in €bn)
Euromonitor, ING Research
Many dairy companies haven't embraced plant-based alternatives.. yet
While start-ups like Oatly and fast-moving consumer goods companies like the French dairy giant Danone were building the dairy alternatives category, many dairy companies followed a wait-and-see approach. Although milk consumption in the US and EU is declining, they still experience growth in dairy products like cheese and yoghurt and exports to developing markets.
Many dairy companies in Europe have only begun trialing plant-based products over the last two years and only in some of their markets. Still, if they were to enter the plant-based space on a more structural basis they do have the opportunity to build on existing knowledge of consumer preferences and can benefit from existing supply chains and contracts with retailers.
Disclaimer: This publication has been prepared by ING solely for information purposes irrespective of a particular user's means, financial situation or investment objectives. The information does ...
more