Planet 13 Is A One-Hit Wonder So Far
With about 152.5 million shares outstanding on a fully-diluted in-the-money basis and a closing price of US$1.53, the market cap is US$233 million, or about 3.7X 2019 sales. My own projection is below the analysts for 2020 at $93 million. I expect the company will do about $75 million in Las Vegas, and I don't expect a material contribution for the Santa Ana store (which isn't completed). For modeling purposes, I will add $5 million, giving it a ratio of 2.9X projected 2020 revenue, which is relatively low for the industry. Based on price-to-tangible book value, the stock trades at 5.7X, also slightly better than MSO peers.

STOCK PRICE
While the performance over the past year has been far better than peers, with the stock up marginally, it is trading near recent lows: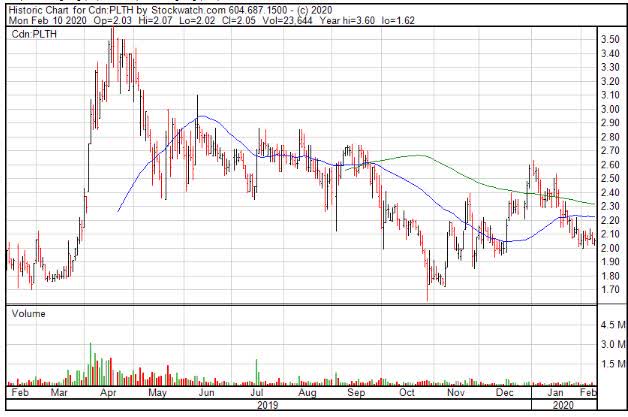 Given that the market doesn't seem to be factoring in the negative financial information revealed thus far in 2020 about margins and growth, I believe it could test those late October lows.I would expect C$1.50 to provide a level of support if the C$1.75 area doesn't hold. Keep in mind the 10.7 million warrants at C$1.40 or lower, as they expire in June.

CONCLUSION
While there has been a lot to admire about Planet 13 to date, I will continue to monitor it for now from beyond the Focus List. With growth slowing in Las Vegas and an unclear expansion plan due to the unique operational aspects of its Las Vegas Superstore, it's not clear that success can be replicated in other markets. I would also be wary of the large amount of expiring warrants discussed above.
At the same time, the strong balance sheet and operational performance suggest less risk with Planet 13 than other companies.
Disclosure: I have no positions in any stocks mentioned, and no plans to initiate any positions within the next 72 hours.
Subscribe to the monthly more