Planet 13 Is A One-Hit Wonder So Far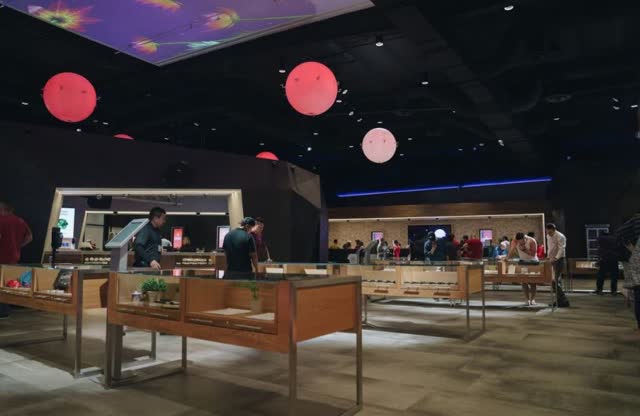 The company reports that its Superstore can serve up to 5K per day, and it has reached about 2100 a day in May. It balances brand offerings with its own extensive private-label products, including Medizin, Trendi, Planet m and Leaf & Vine.
An important project for the company is in Southern California, what it calls its Los Angeles Superstore, located in Santa Ana and expected to open in Q2 this year. Santa Ana is one of the few areas in SoCal with extensive licensed dispensary operations already. It will pay $6 million cash and issue 2.04 million Class A shares for the license and 40K sq. ft. dispensary.
The company believes that it has opportunities to expand into other markets but hasn't announced plans as of this time.

MANAGEMENT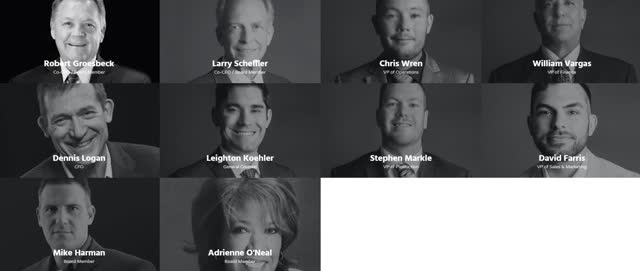 Planet 13 is led by co-CEOs Robert Groesbeck and Larry Scheffler. Groesbeck has been a Las Vegas entrepreneur most of his life and has a legal background. Formerly an attorney for 25 years, he served as mayor of Henderson in the 90s.
Scheffler is a Nevada resident who preceded Groesbeck as the mayor of Henderson and who founded what is now the largest commercial printing company in Nevada in 1978.
VP of operations Chris Wren joined the company in its earliest days and is a long-time veteran of the cannabis industry. CFO Dennis Logan in an investment banker who has most recently served as CFO for several Canadian companies. He joined the company in 2018 ahead of listing publicly.
Insiders with substantial ownership include Groesbeck, who owns 26.13 million Class A voting shares through PRMN Investments, LLC and 13.17 million shares held mainly by that same entity, and Scheffler, who owns 26.13 million A Voting shares through Thirteen, LLC, and 13.55 million common shares held mainly by Thirteen, LLC, and Wren, who owns 2.11 million shares and 2.98 million A voting shares. CFO Logan has 676K shares and 125K warrants.
The Board includes two independent directors a CPA who provides CFO services to companies primarily in Las Vegas and marriage counselor. Former Origin House CEO Marc Lustig recently departed the Board.

FINANCIALS
The company has ramped up revenue tremendously since opening its Superstore: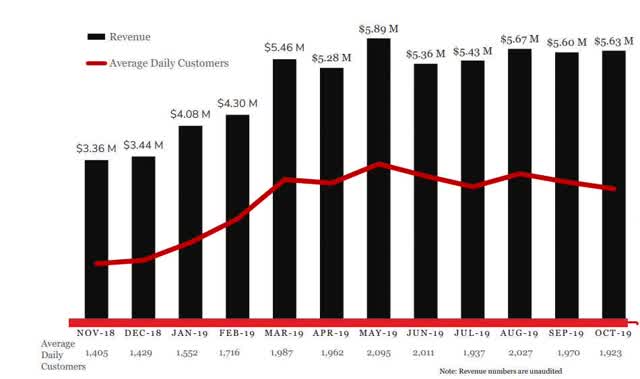 The above slide, which is from the November investor presentation, can be updated by piecing together information released subsequently. First, it pre-announced total revenue in 2019 of $63 million on January 9th. It followed this up with disclosure that revenue in January rose about 10% from seasonally slow November and December.
Disclosure: I have no positions in any stocks mentioned, and no plans to initiate any positions within the next 72 hours.
Subscribe to the monthly more