Delcath Systems Share Price Has Risen Over 1000% In The Past Month On No News And Is Engaged In Death Spiral Financing
Delcath Systems (DCTH) is an interventional oncology company focusing on the treatment of liver cancer. It is still doing trials on its Melblez Kit filter system that was failed to be approved by the FDA way back in 2013. The stock is up 1000% over the past month on no news, just recently created hype. The stock closed yesterday at $0.18, reached over $0.30 on June 21st, and was trading between $0.02-$0.04 between May 11th and June 8th.
Delcath is currently engaged in death spiral financing. Even though the stock only trades at currently $0.18, we recommend shorting shares. The trading volume is very high, which will likely prevent a reversal to the upside during its constant dilution of shares and dumping on the open market. The company burns $4M every quarter, and for a struggling company, management spends money luxuriously. Because of its high cash burn, low stock price, and ineffective technology, the company's death spiral financing will likely continue into the foreseeable future.
Delcath's Death Spiral Financing
Wikipedia defines death spiral financing as:
"A process in which convertible financing used to fund primarily small cap companies can be used against it in the marketplace to cause the company's stock to fall dramatically, which can lead to the company's ultimate downfall…Companies willing to agree to financing on these terms are often desperate and could not obtain funding through any other means."
The above Wikipedia definition precisely describes the financing that Delcath is going through now.
Delcath started engaging in death spiral financing in June, 2016. Delcath had increased its outstanding shares by over 10x between February 10, 2017 and June 5, 2017. Delcath has issued hundreds of millions of shares at below $0.05 per share in that time period.
In a filing that DCTH released on June 5, 2017, it states that its outstanding shares were a whopping 374.4 million at the close of June 5, 2017.

Delcath issued over 130 million shares between February 10, 2017 and May 8, 2017. And then, from May 8, 2017 until June 5, 2017, the company issued another 205 million shares! Then, between June 5, 2017 to July 5, 2017, the company issued another 65.4 million shares, to total 439.8 million.
Wait – this dilution gets even worse! DCTH was only trading between $0.02 and $0.04 per share between May 8th-June 5th, as shown in its price history below: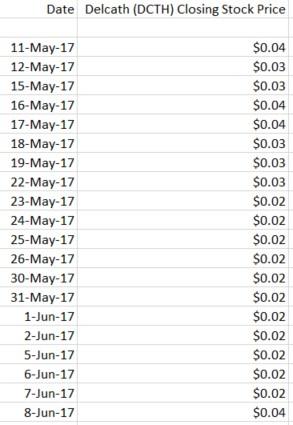 This means that the 205 million shares that were issued in that time period were issued between the prices of $0.02 and $0.04, at a 15% discount to the market price of the shares (this is one of the death spiral financing conditions we document later in this report).
The following are presentations from the company that show how many shares outstanding there were.
From its February 2017 shareholder presentation:

From its June 2017 shareholder presentation:

Next, as we showed above, DCTH reported 374.4 million shares outstanding on June 5, 2017.
Then, on July 6th, 2017, DCTH filed a preferred stock offering that further dilutes the common stock. The filing states that after the offering, the total common stock outstanding will be 439,840,450 shares.
DCTH's rally from $0.02 to $0.20 in one month (a 1000% gain) came from no news, only promotions.
The following are Delcath's news from June 5th until today:
On June 5, 2017, Delcath presented a slide show from its Annual Shareholders Meeting.
The highlights from the slide are:
Delcath attained national reimbursement coverage in Germany for its CHEMOSTAT.
Delcath is working on three trials for cancer tumors: Ocular Melanoma (OM), Intraheptatic Cholangiocarcinoma (ICC), and Hepatocellular Carcinoma (HCC) .
$35M in convertible notes issued in June 2016 are subject to certain equity conditions.
Commenting on the above highlights:
CHEMOSTAT sales in Germany has been very meager despite selling there since 2012. This new coverage doesn't change the sales very much.
The trials are for the same technology that the FDA failed to approve in April, 2013.
The $35M in convertible notes are the main part of Delcath's death spiral financing. It ends by December 29, 2017, in which Delcath will likely have no choice but to agree to another death spiral financing deal in order to survive.
Disclosure: We are short DCTH.