Pandemic Job Losses: When Should We Begin A See A Real Improvement Back Towards "Full Employment"?
Let's take a deeper look at where employment stands as we begin to see the end of the pandemic in sight.
As I and many others noted last Friday, although with the exception of one month there have been job gains every month starting last May, at the pace of the last few months it would take 2 years or more just to get back to the level of employment just before the pandemic struck.
But breaking down those losses between aggregate hours and aggregate payrolls is illuminating. Here's a look at the YoY% change in jobs, hours, and payrolls for the last 3 recessions and recoveries: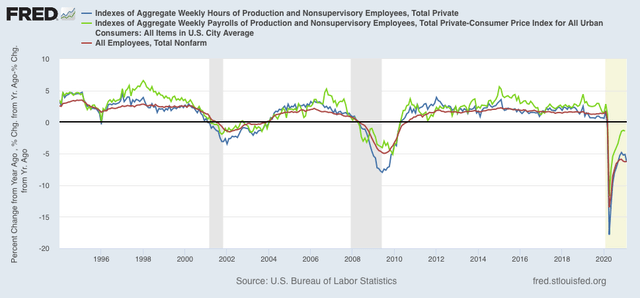 What we can see is that in both 2001 and 2008, hours were cut more than payrolls or jobs. In other words, many more employers reacted to the recessions by cutting employees' hours rather than laying them off. That hasn't been the case in the coronavirus pandemic. Both jobs and hours were cut by close to the same amount - I.e., employers laid off employees rather than have them work part-time. What was cut far less deeply were payrolls. What this shows is that the brunt of layoffs were borne by lower-wage industries. Relatively speaking, higher-wage sectors were able to have their employees work from home, and avoided layoffs.
Now let's slice up the jobs market by sectors to see where the deepest cuts have been. In all of the following graphs, I have normalized employment just prior to the pandemic (as of February 2020) to 100. Thus the graphs show the percentage of jobs lost.
Broadly speaking, employment can be broken down into goods-producing and service-providing sectors. The latter is by now about 6x the size of the former, which has been deeply cut by offshoring and mechanization. Here's what that looks like for the pandemic: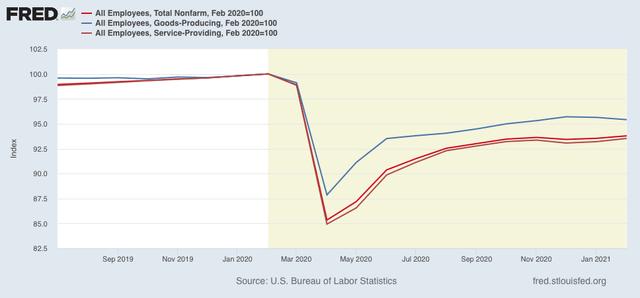 Goods-producing jobs are down by "only" 4.6% as of last month, while service jobs are down 6.5%.
The two biggest portions of goods-producing jobs are manufacturing and construction, shown below along with the very leading sector of residential construction:
Disclaimer: This blog contains opinions and observations. It is not professional advice in any way, shape or form and should not be construed that way. In other words, buyer beware.