When To Hedge With Puts Versus Collars
For the position hedged with optimal puts, we multiply the estimated potential return by the put preference factor and then subtract the hedging cost. If the resulting number is greater than the net potential return of the collared position, we hedge with optimal puts; if it's less, we hedge with an optimal collar.
A Real-World Example Using GOOG
Each trading day, our system analyzes total returns and options market sentiment to estimate potential returns for thousands of stocks and ETFs. Since we added a new source of alpha last May, the returns of our top ten names have consistently beaten the market. Google parent Alphabet (GOOG) wasn't one of our top names on Tuesday: it was #223. Did it make more sense to hedge GOOG with puts or a collar then? That depended on your risk tolerance. Let's see how it worked with two different risk tolerances. First, one where you were only willing to risk an 8% decline over the next several months. And then another where you were willing to risk a 15% decline.
Hedging GOOG Against A >8% Decline
If you tried scanning for optimal puts to hedge GOOG against a >8% decline over the next several months on Tuesday, you would have gotten this error message: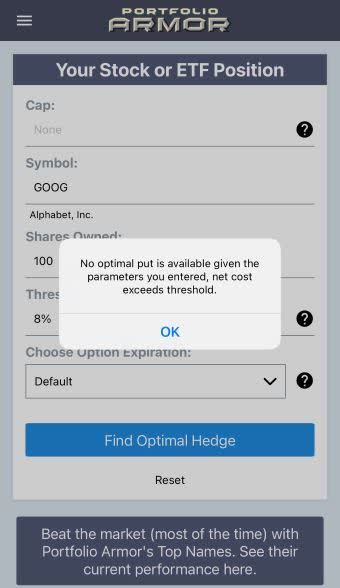 This and subsequent screen capture via the Portfolio Armor iPhone app.
So, no more analysis needed. If you wanted to hedge GOOG against a >8% decline, you needed to use an optimal collar.
Hedging GOOG Against A >15% Decline
With An Optimal Put
This was the optimal put to hedge 100 shares of GOOG against a >15% decline over the next ~6 months, as of Tuesday's close.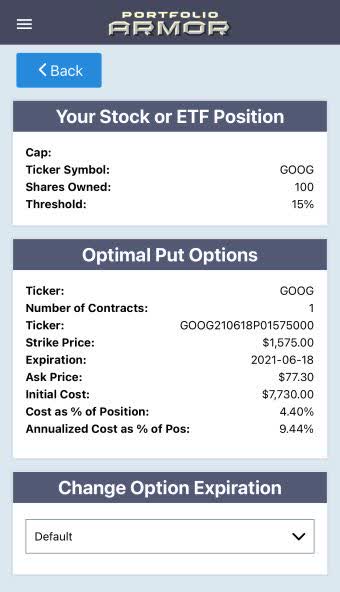 Here the cost was 4.4% of position value (calculated conservatively, using the asking price of the puts).
With An Optimal Collar
Our potential return estimate for GOOG over the next 6 months was about 21% (to see how we estimate potential returns, see this post where we break it down using the Silver ETF SLV as an example). If you were willing to cap your upside at 21%, this was the optimal collar to hedge it against a >15% drop over the same time frame.