What Is Profit Factor In Trading?
These should be factored in when evaluating a strategies performance.
Download the Options Trading 101 eBook
Moreover, any sort of strategy will result in a drawdown phase and go through degradation in the future as the nature of the markets does not remain the same.
Hence, considering room for strategy degradation should be accounted for.
Just because something worked in the past does not guarantee it will work in the future.
More likely than not a strategy that preforms very well over a certain period (for example momentum trading) will mean revert in the long run.
Benefits Of Profit Factor
It monitors and evaluates the performance of a trading strategy.
It helps in adjusting the trading parameters of a strategy. Tightening of parameters helps to take only the good trades which in turn can increase gross profits and the profit factor considerably.
It guides in eliminating strategies that have a poor profit factor.
It helps in assessing the win rate and drawdown of a strategy.
Problems related to Profit Factor
The profit factor is the most important metric to assess the performance of a strategy but its usage alone to judge a strategy is short sighted.
Let us take an example to analyze the problem related to the usage of profit factor.
Suppose the initial results for a new strategy result in 4 losing trades (- $250, -$150, -$200, -$150) and two winning trades ($850 & $750) in two weeks as seen in the chart below.
The profit factor in such scenario would be = ($850 + $750)/ ($250 + $150+ $200+ $150) which comes to 2.13.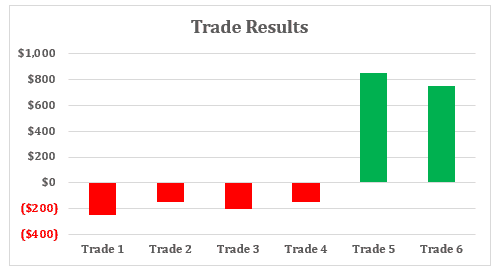 It is worthwhile to notice that the new strategy results in a profit factor of 2.13 which is significant but there are a few points to be addressed.
The data set only has six trades, so the profit factor cannot be reliable without a larger sample size.
The drawdown seems to be high as there is a series of four consecutive losing trades.
The high drawdown and the low win rate may burn a trader mentally even if their strategy was profitable.