What Is A 1-2-3 Chart Pattern?
For me, this would be a one-year, daily chart. The basic 1-2-3 chart pattern has four required elements or points on the price chart for this pattern to indicate a trade signal.
1-2-3 Chart Pattern Criteria
Low point (point A on the chart).
Higher high point (point B on the chart).
Retracement from point B, but not lower than point A (point C on the chart).
Reversal from point C past the point B level (B line on the chart) – this would be the buy signal for a long trade.
I want to briefly point out that this chart pattern can also be used for short trades by reversing each of the pattern criteria above (i.e., the first point would be the High point). I don't want to create a lot of confusion, so we will stick with the long signal here. There are also some variant entry signal criteria that can be used. We won't use them in this example, but I want you to be aware of them.
Normally, we wait for the price to move through the B line, but we can adjust the entry point depending on our risk tolerance. Both situations add another 1-2-3 chart pattern within the first pattern as a trade signal. In the chart below, we see another 1-2-3 chart pattern above the B line. This variation would be used by a more conservative trader who really want to make sure they have a good trade signal.
The trade signal would occur after the price passes the 2 line. On the other hand, a more aggressive trader might want to buy before the price crosses the B line. In this case, imagine the second 1-2-3 chart pattern between point C and the upward crossing of the B line. The trade signal would be indicated after the price crosses the 2 line.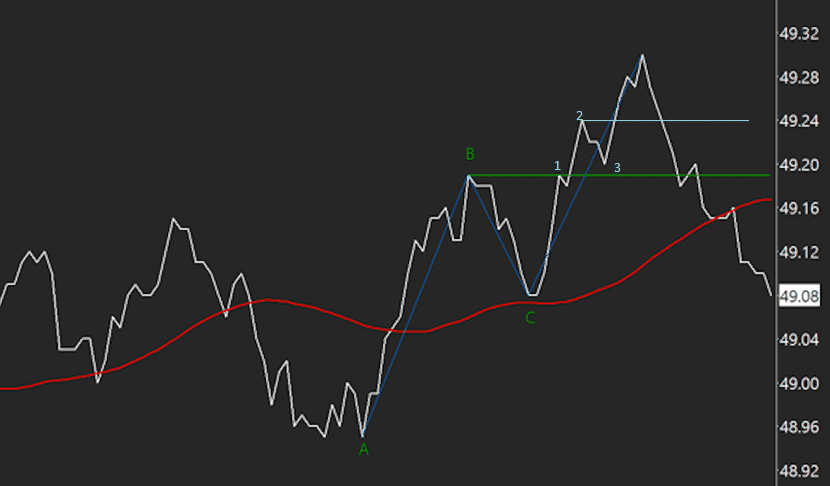 Brief RSI Usage Overview
RSI is a popular technical indicator that I use very often. It signals overbought and oversold conditions that can help us a lot. RSI indicates an overbought condition when the value, which ranges from 0 – 100, is over 70; and it indicates an oversold condition when the value is below 30. The overbought condition indicates that the price is ready to rise, and vice versa for the oversold condition.
Disclaimer: The information above is for educational purposes only and should not be treated as investment advice. The strategy presented would not be suitable for investors who are ...
more