What If NFTs Aren't A Bubble?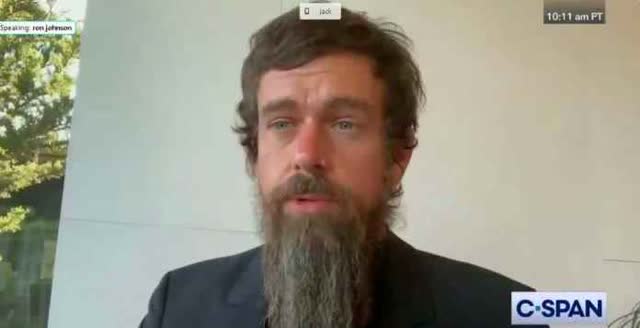 Jack Dorsey, looking like Rasputin on C-SPAN.
NFTs: Bubble Or Profound Innovation?
From his meditation retreats in the country formerly known as Burma to his Rasputin-like appearance in Congressional testimony, Twitter (TWTR) and Square (SQ) CEO Jack Dorsey cuts an eccentric figure. Given that, you might think to dismiss his recent auction of the NFT (Non-Fungible Token) of his first tweet as another eccentricity.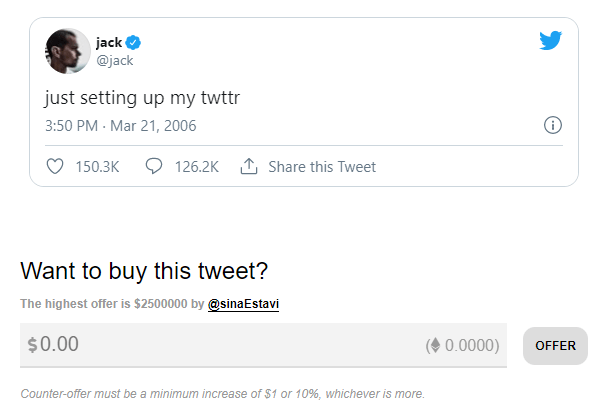 Image via Valuables by Cent.
You might also think the current $2.5 million bid on his tweet is the sign of an insane bubble.
What if it isn't?
I Am The Louvre
To explain the logic behind NFTs, we turn to Albert Wenger, managing partner of Union Square Ventures. As we mentioned when we interviewed him a few years back, by some measures, Union Square Ventures is the top-performing venture capital firm in the world. Notably, it was also an early investor in Twitter. In a post over the weekend (A Word On NFTs), Dr. Wenger offered a thought experiment. Imagine a future where you could scan the Mona Lisa that's hanging in the Louvre, and then 3-D print an exact duplicate in your home.
Do you now own the Mona Lisa? No, you have a copy of it. Even though your copy is now identical to the original. Imagine for a moment trying to sell it.

You: I am selling the Mona Lisa

Buyer: You mean the one that's hanging in the Louvre?

You: Well, …

As long as a buyer can easily call up the Louvre and ask them if they still have the Mona Lisa and they can credibly assert that they do, your copy will be worth very little.
Wenger then extends the thought experiment: what if someone switched your exact replica with the one in the Louvre? You'd have the same problem trying to sell it. He concludes:
This is what NFTs do for digital content. They let someone assert "I am the Louvre" (for that piece of content).

This is not a fad. It is a fundamental and profound innovation. And one that I and others had envisaged a long time ago.