WallStreetBets Versus The Crackdown
Let's hope this sardonic tweet doesn't become a real headline next.
BREAKING: DoJ announces thousands of /r/wallstreetbets posters arrested and charged with outsider trading

— Off-World Duck (@quackocracy) January 29, 2021
Updating Our Analysis Of The Meme Stocks
Last time, we wrote that the only meme stock our system was currently bullish on was Blackberry. After Thursday's drop, our system was still bullish on BlackBerry and, surprisingly, turned bullish on Nokia as well. In fact, it was more bullish on Nokia than BlackBerry.
Each trading day, we run all the stocks and ETFs with options traded on them in the U.S. through our initial screens, and then we rank the ones that pass based on our analysis of their returns and options market sentiment on them. On Thursday, 1,864 securities passed our initial screens. Sorting them based on our estimates of their potential returns over the next six months, BlackBerry was #26, as you can see below.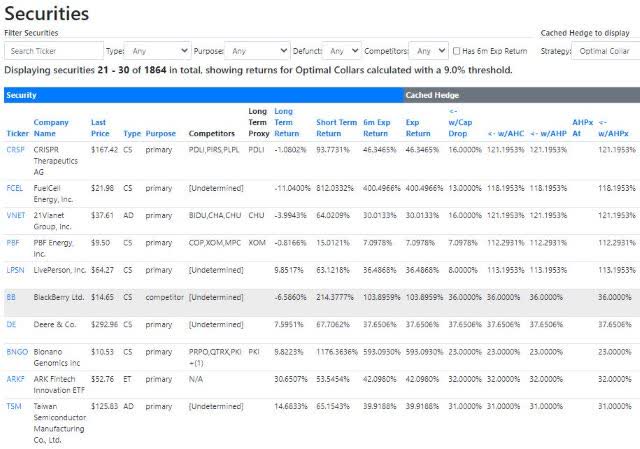 Screen capture via our admin panel. For an explanation of what the columns refer to, see here.
Nokia ranked even higher: #15. That made the trade idea below possible.
A Hedged Bet On Nokia
Nokia offers an even better setup than BlackBerry did earlier this week in terms of upside potential versus downside risk. Let's say you picked up a 1,000 shares of NOK on the dip Thursday. This was the optimal collar, as of Thursday's close, to hedge your 1,000 shares of NOK against a >25% drop over the next month while capping your upside on the stock at 100%.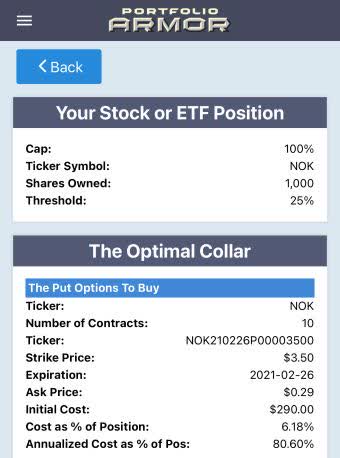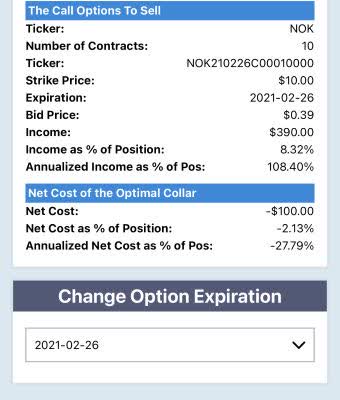 Screen capture via the Portfolio Armor iPhone app.
It's rare that you're able to cap a collar this high, which makes for the attractive risk-versus-reward setup here. Also, note the negative hedging cost. When opening that collar, you would have collected a net credit of $100, or 2.13% of position value, assuming, to be conservative, that you placed both trades at the worst ends of their respective spreads (buying the puts at the ask and selling the calls at the bid - in practice, you can often buy and sell options at some price within the spread).