Update: Fear - Enough To Continue Higher
There is much fear swirling around the level of margin debt these days. The chart below shows the ratio of margin debt:Wilshire 5000 index. The debt:asset ratio is just above historic lows. This is the kind of misdirected fear I like to see. It is another brick in the wall of worry.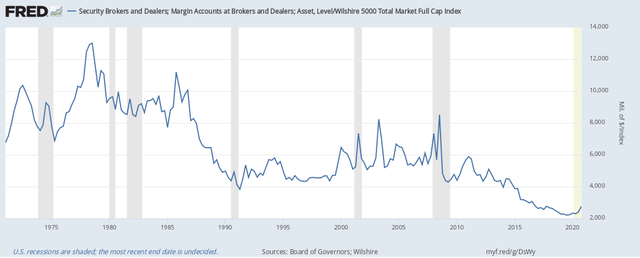 There is more fear than most people think. The up-spike in the nominal put:call ratio (black question mark below) implies a local bottom, and the series of higher-lows in the 8-day moving average (black arrow) demonstrates increased hedging and, therefore, increased fear (chart below).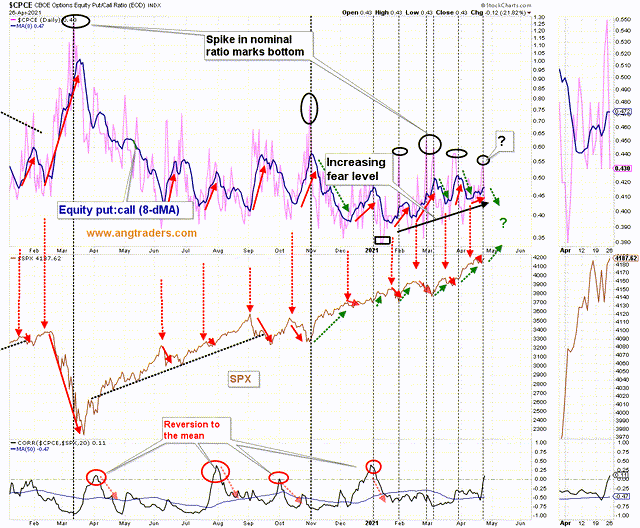 If we only consider the last decade, then it seems that the 10-day moving average of the put:call ratio is relatively low which means that hedging levels are low and, therefore, so too is the level of fear. But if we pull back and look at the 1990s, we see that the put:call ratio is actually quite high (elevated fear) and that there is a lot of room to spare before complacency sets in (chart below).
(Click on image to enlarge)
No bull market runs in straight lines, but there is enough fear in investors' minds to continue pushing this market higher.