Trading Options And Foreign Stocks: When Low Trading Volume Is Not Illiquid
I typically try to trade the foreign shares in large blocks rather than pay the ADR fee, but most investors will likely find that using the ADRs is more economical.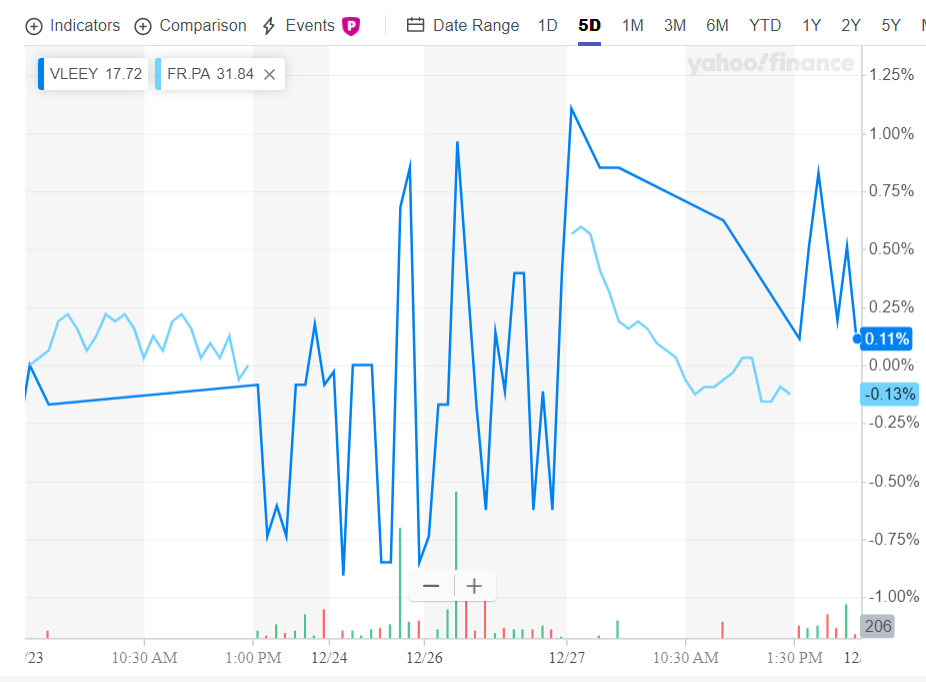 Five-day chart from Yahoo! Finance comparing the pricing of an ADR (VLEEY) to the underlying stock in Paris. Note that the ADR is much more volatile when the Paris market is closed and FR.PA is not trading. When the market in Paris is open, arbitrage between the European market and the US stabilizes the price of the ADR, even though fewer shares are trading.
How trading foreign stocks is like trading options
As with options, the number of shares of foreign stocks or ADRs available has more to do with the liquidity of the stock on its home exchange than the number of shares which are traded in the US. When placing an order for a relatively illiquid ADR like VLEEY (approximately 12,000 shares traded per day), it is best look at the stock chart of FR.PA in Euros (you can find it on Yahoo! Finance here, choose a limit price based on that and your own fundamental calculations, and then convert it to an ADR or foreign stock price for VLEEY or VLEEF before placing a limit order with your broker.)
For example, if I decide I want to buy Valeo for €32, I would multiply by the Euro/$ exchange rate (currently €1.1181/$) and the ADR multiplier (if any) to place a limit order for VLEEF at $35.78 or VLEEY at $17.89. Note that trades of VLEEF can happen whenever the Paris stock market is open, but trades of VLEEY will take place when the US market is open.
Conclusion
Investors should not let the apparent low liquidity for exchange traded options or foreign stocks and ADRs on US markets deter than from trading either. As long as you are careful to use limit orders at a price at which you are happy to trade, the worst thing that can happen is that you end up not trading at all.
Disclosure: Long CWEN/A, MIXT, VLEEF.
Disclaimer: Past performance is not a guarantee or a reliable indicator of future results. This article contains the ...
more