Three Examples Of Pre-Earnings Diagonals
Being a hybrid of a vertical and a calendar, the diagonal is one of the most versatile and configurable option structures.
The diagonal can be tailored to suit the investor's particular trading style or sentiment of the underlying.
Today, we will look at three examples of diagonals can be used on stocks with upcoming earnings.
Example 1: Bullish Long Call Diagonal
There is a tendency for certain growth and momentum stocks (often in the tech sector) to rally in price prior to earnings report due to bullish investors wanting to take ownership of the stock expecting it to beat earnings and gap up in price.
There is also a tendency for implied volatility (IV) to increase as we approach earnings.
Or if not increase, it will at least not decrease.
The diagonal can be used to take advantage of three things.
price going up
volatility going up or staying stable
time decay differential between the short and long strikes
As soon as earnings is announced, we would lose our edge on price and volatility.
Because price can gap up or down and volatility will drop.
Therefore, we exit this trade prior to the earnings announcement.
There are some investors who believe that a stock will have a slightly better chance of exhibiting pre-earning run ups if it ran up in the last earnings.
This had been the case for the technology company CrowdStrike (CRWD) which ran up prior to its earnings announcement on September 2nd, 2020.
A bullish investor in anticipation of its next earnings report on Dec 2 buys a long call below the strike price, and finances it by selling a shorter term call above the stock price.
Date: Nov 13, 2020
Price: $132.18
Earnings Date: Dec 2, 2020
Buy one CRWD Dec 18, 2020 call with strike $125 @ $14.33
Sell one CRWD Nov 27, 2020 call with strike $140 @ $2.51
Net Debit: $1181.50
You can think of this as similar to a covered call where the long call is your stock replacement and your short call is your incoming generating leg.
In this example, the long call was purchased at the 65 delta with expiry about a month away.
The short call was sold at the 30 delta with expiry about two weeks away.
The call that we are selling always has an expiry shorter than the call that we are buying.
The shorter expiry options will lose value faster than longer expiry options.
We want options that we sell to lose value.
We want options that we buy to maintain value.
To further enhance this differential, the short option will expire prior to earnings.
The long option will expire after earnings.
Because the long option spans across the earnings date, it will hold its value better.
The dark blue line of payoff diagram shows the profit and loss on November 27th when the short option expires.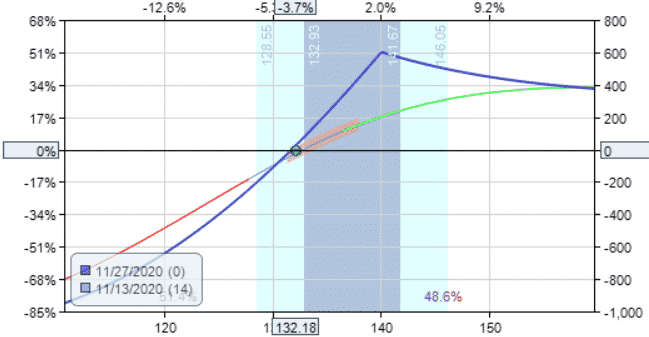 There is no upside risk.
As long as the stock goes up regardless of how high, the investor will profit.
The max profit will be occur when CRWD ends up at $140 on November 27th.
This is a very bullish trade because there is no room for error on the downside.
The break-even price on November 27 is close to where the price is currently.
The Greeks of this trade are:
Delta: 34.25
Theta: 3.13
Vega: 6.10
Disclaimer: The information above is for educational purposes only and should not be treated as investment advice. The strategy presented would not be suitable for investors who are ...
more