The Various Stock Order Types
An example of a situation where the order is not filled would be an overnight gap down from a price of $171 to $169 without the stock coming back up to $169.75 For this reason, when utilized for protecting a position from loss, we like to use the stop loss order (which guarantees a fill, but does not guarantee at what price).
Buy Stop Limit
The examples with GLD were sell stop limit orders. The buy stop limit order has a different use case. Suppose that an investor sees that MSFT is trading in a tight range and they would like to buy it only if it breaks out of the range on the upside, and if price is not too expensive.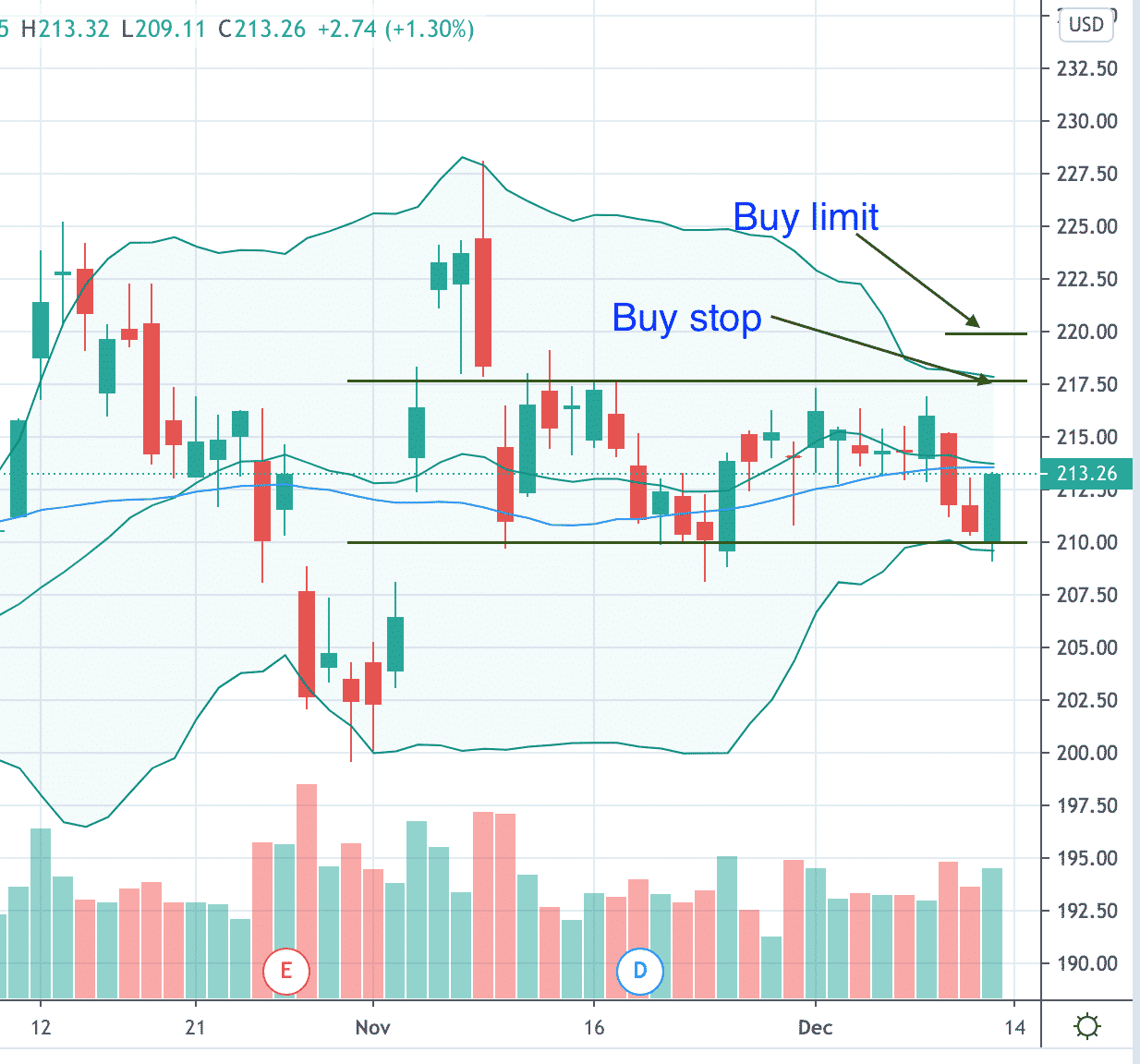 The investor would set up a buy stop limit order with a stop price of $217.50 and a limit price of $220. This means that if the MSFT price goes up to $217.50, the order will buy MSFT at the market price as long as it is not more than $220.
If MSFT does an overnight gap up from, say, $217 to $221, then the order does not get filled. The investor doesn't want to buy immediately after such a big move up.
Stop Loss on Options?
Yes, it is possible to place stop loss orders on options. However, they can be problematic for several reasons. The option price can fluctuate due to volatility changing, the price of the underlying changing, or just time passing. Also, the bid/ask spreads are wider than with stocks.
These factors make it difficult to set a precise stop loss target on the option's price. And even if we try, often the stop loss is triggered by random fluctuations of the option price rather than due to a technical movement of the underlying stock.
A better alternative would be to have the brokerage platform buy/sell the option if the underlying hits a certain price. For example, if the price of ADBE drops below $470, the investor may like to sell the ADBE call option that they currently own. Here, the trigger is based on a stock price and the order is to sell a call option.
To do this, the investor would have to place a conditional order instead of a regular order type. We'll learn about conditional orders in another article.
Disclaimer: The information above is for educational purposes only and should not be treated as investment advice. The strategy presented would not be suitable for investors who are ...
more