Tesla Self-Drives Into Fiery Texas Wreck; WIll Stock Follow?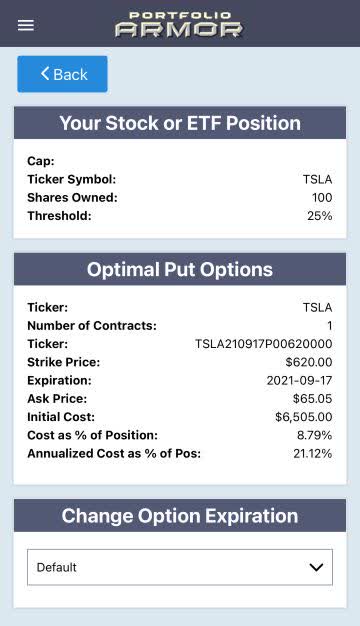 This and the following screen captures via the Portfolio Armor iPhone app.
As we said, this one's a bit pricey: the cost here was $6,505, or 8.79% of position value. That cost was calculated conservatively, using the ask price of the puts (in practice, you can often buy and sell options at some price between the bid and ask).
Capped Upside, Slightly Negative Cost
If you were willing to cap your potential upside at 30% over the next six months (an annualized return even more ambitious than Cathie Wood's), this was the optimal collar to hedge against the same, >20% decline as the previous hedge.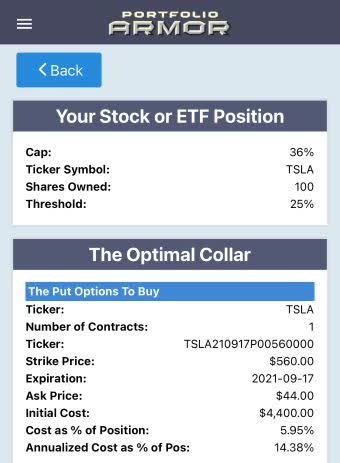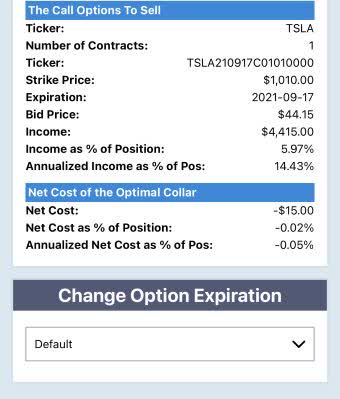 With this one, the net cost was slightly negative, meaning you would have collected a net credit of $15 when opening the collar, assuming, to be conservative, that you placed both trades (buying the puts and selling the calls) at the worst ends of their respective spreads.
Go For The Cheaper Hedge?
If cost is your main concern, then yes. If you want to maximize your return net of hedging cost, it depends. We described how our hedged portfolio construction algorithm decides whether to hedge with collars or puts here.
Disclaimer: The Portfolio Armor system is a potentially useful tool but like all tools, it is not designed to replace the services of a licensed financial advisor or your own independent ...
more