Putting A Collar On The Dogs Of The Dow
If we hold any stock position across an earning date, we collar the stock by buying the protective put. If any short put spans an earnings date, we also buy the protective put.
Note on Strike Selection
Our short call and short put strikes are very close to the money and sometimes in-the-money.
This is because we don't mind if our stock is called away, and we don't mind if our puts are assigned to acquire the stock again.
Since at-the-money options have the highest time value, selling them and waiting till expiration enables us to generate the most theta. Selling in-the-money covered calls is a valid strategy under certain conditions. It lowers the break-even price.
If the stock doesn't move and is called away, we still make money. Generally, sell out-of-money calls when bullish. Sell in-the-money calls when bearish.
Similarly, there is nothing inherently wrong with buying protective puts that are in-the-money. Nor is there anything wrong with selling cash-secured puts in-the-money.
The Results
Here are the results of the options strategy in comparison…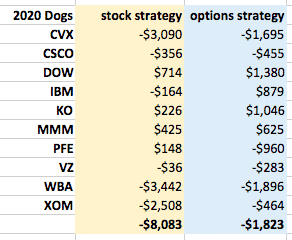 While it was still a loss for the year, the loss was much smaller due to the fact that the options strategy uses the collar to limit losses on stock positions, and uses put spreads to limit losses in short puts.
The Collar
The collar position is long stock, and selling a covered call, and buying a protective put. It caps the profits and limits the losses.
The long stock position, the covered call position, and the collar position are all bullish strategies — the difference is the amount of bullish-ness. They do better when the stock goes up. They do worst when the stock goes down.
Walgreens (WBA) did the worst in both the stock and options strategy.
The loss using the options strategy was smaller.
Dow Inc (DOW) did the best in both the stock and options strategy. The gains where greater using the options strategy.
Disclaimer: The information above is for educational purposes only and should not be treated as investment advice. The strategy presented would not be suitable for investors who are ...
more