Locking In Nano Dimension Gains
Uncapped Upside - Too Expensive
If you scanned for an optimal put hedge against a >30% decline in NNDM over the next several months, you would have gotten this error message on Wednesday.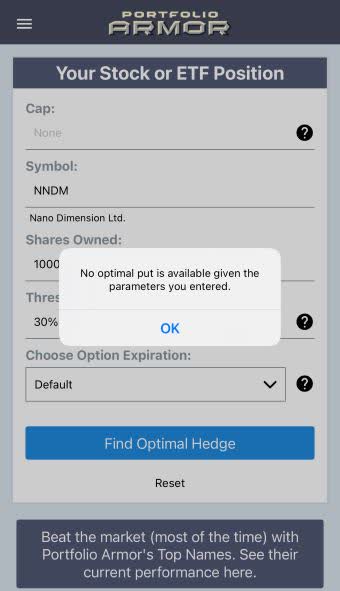 No optimal put hedge was available, because the cost of protecting against a >30% decline in NNDM using one was itself greater than 30% of position value.
Capped Upside - Negative Cost
It was possible to find an optimal collar for NNDM on Wednesday though, if you were willing to cap your possible upside at 60% over the same time frame (in this case, going out to late August).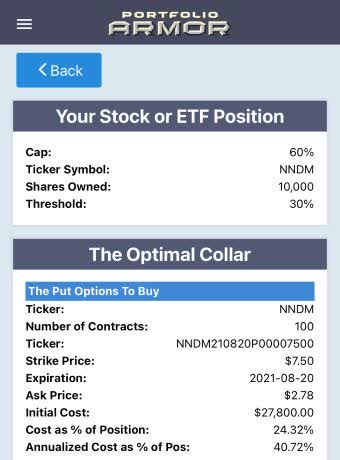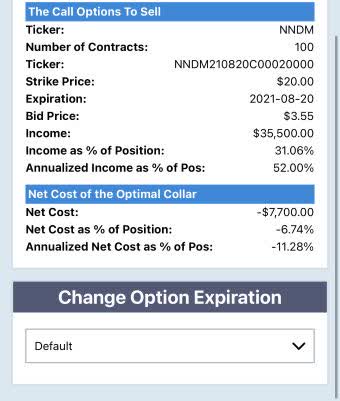 Here, the cost was negative, meaning you would have collected a net credit of $7,700, or 6.74% of position value when opening this hedge. That's assuming, to be conservative, that you placed both trades at the worst ends of their respective spreads (buying the puts at the ask and selling the calls at the bid).
Heads You Win, Tails You Don't Lose Too Much
If you take into account the net credit/negative hedging cost above, your maximum upside from here would be a gain of 66.7%. And in a worst-case scenario, your maximum decline would be a drop of 30%. Heads you win, tails you don't loose too much.