Iron Condor Versus Iron Butterfly
Oftentimes, even if you think liquidity is there when you enter a trade, it promptly seems to disappear when you need to exit. By choosing strikes with the higher volume, you can help leave avoid being at the mercy of a market maker and get a fairer fill.
Direction
While we generally want to trade directionless, sometimes it is difficult to trade without direction. This is especially true when we trade an Iron Butterfly. If the underlying is trading somewhere in the middle of different strikes, we are stuck choosing one and taking on delta on inception.
This is especially relevant when trading shorter duration, as the delta we have at inception can be significant. If we want this directional view, then it's a perfect trade. If not, then it's better to work your Iron Condor body so you can get it as close to delta-neutral as possible.
Let's Practice
Let's practice with an example. I have taken a screenshot of the weekly options for Ford (F) stock. Should we pick an Iron Condor (in yellow) or an Iron Butterfly (in green) here?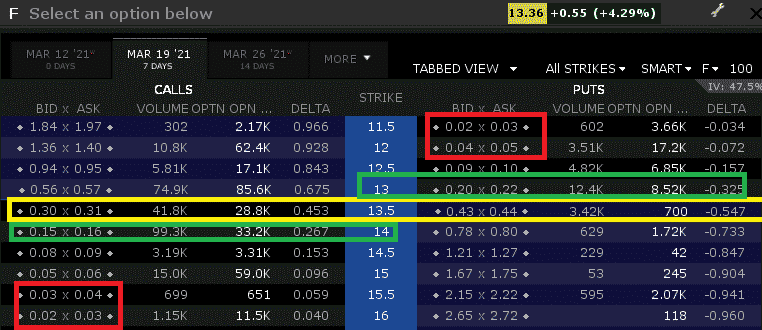 The answer is clearly the Iron Butterfly. If we select the Iron Condor, we are only getting 35 cents credit minus the cost of our wings. Yikes. If you were thinking neither, you are also right. A short straddle would be a lot better due to the low price of the underlying and the short days to expiration.
It is very unlikely that Ford would get to $11 or $16 by expiration. Why? The contracts are trading at a few pennies (shown in red), hence the short straddle minimizes transaction costs while maximizing the credit we keep for ourselves.
Let's look at another example. I pulled up Tesla (TSLA) options. Should we place an Iron Condor or an Iron Butterfly here?

Initially, we can see that the price is trading at $693.20. If we want to do Iron Butterfly right off the bat, we will need to choose either the 695 or 690 strike. The 695 strike is closer to ATM so if we are prepared to lean a couple of deltas bullish, we could go with the Iron Butterfly with the body at 695.
Disclaimer: The information above is for educational purposes only and should not be treated as investment advice. The strategy presented would not be suitable for investors who are ...
more