GameStopped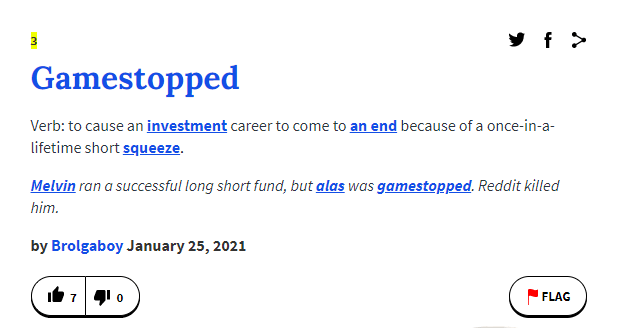 The Urban Dictionary gets a new definition.
We Get Mail
Last month, we got an email from a subscriber who noticed some overlap between the stocks that he saw on r/WallStreetBets and our top names list. He noted that our site and WSB had both been bullish on AMD and Penn National Gaming (PENN), and predicted GameStop (GME) would soon end up our list:
I'm seeing a direct correlation from some of the names on your list and the r/wallstreetbets

Subreddit: r/wallstreetbets

Names that pop up in there usually seem to appear on your list a day or two later.

Could you write a piece about why you think that is and why your top names might be affected by "meme stock" buying frenzy that happens in there?

For example. I predict GME will appear on your list by today's close or possibly this week. They have been pumping GME hard and now that Ryan Cohen has upped his stake in the company it's beginning to pay off for those that got in on it. I sadly did not.
Sadly, it didn't make our top names list either. We got that email on December 23rd; between then and Tuesday's close, GameStop was up another 619%.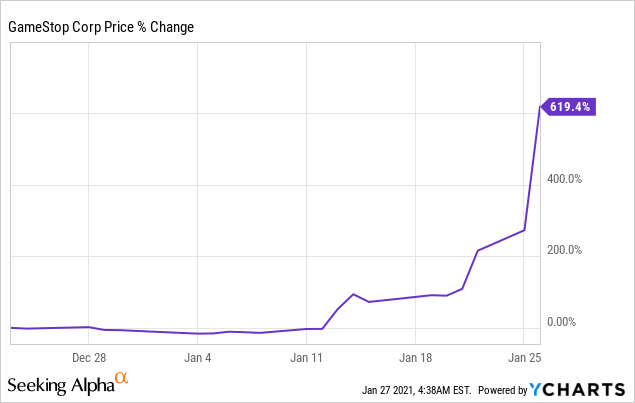 Let's talk about what's going on with GameStop, your clever idea to buy puts on it, and why it never made our top names. We'll close with a possible consolation prize: a small cap with a parabolic chart that did make our top names.
Striking Back At The Establishment
In a post earlier this month (The Establishment Strikes Back), we wrote about how the capital wing of the establishment cracked down on Trump and his supporters. One motivation behind WallStreetBets' short squeeze/gamma squeeze is of course to make money. But another apparently is to strike back at the establishment. One cynical tweeter tied the two points neatly together:
The mass elation caused by GamestopGate should seriously concern the elites. Basically everyone under 40 is now oriented toward enjoying any victory over the elites more than any circus the elites can put in front of them.

— HankHeIl (@HankHeil) January 26, 2021