Don't Trade Naked Calls
The price of the call option has risen to $5.67 — more than a 12 fold increase from the$0. 47 price at which we sold it. And if we did not, these would be the profits and losses at market close for each day:
July 8 –$326.
July 9 –$558.
July 10 –$876.
July 13 –$726.
July 14 –$1023.
July 15 –$943.
July 16 –$963.
July 17 –$926.
The market does not seem to be friendly to those who are stubborn or those who are relying on hope that price of WMT goes back down.
Called Away at Expiration
WMT closed at $131.74 at expiration on July 17 — above our strike price of $122.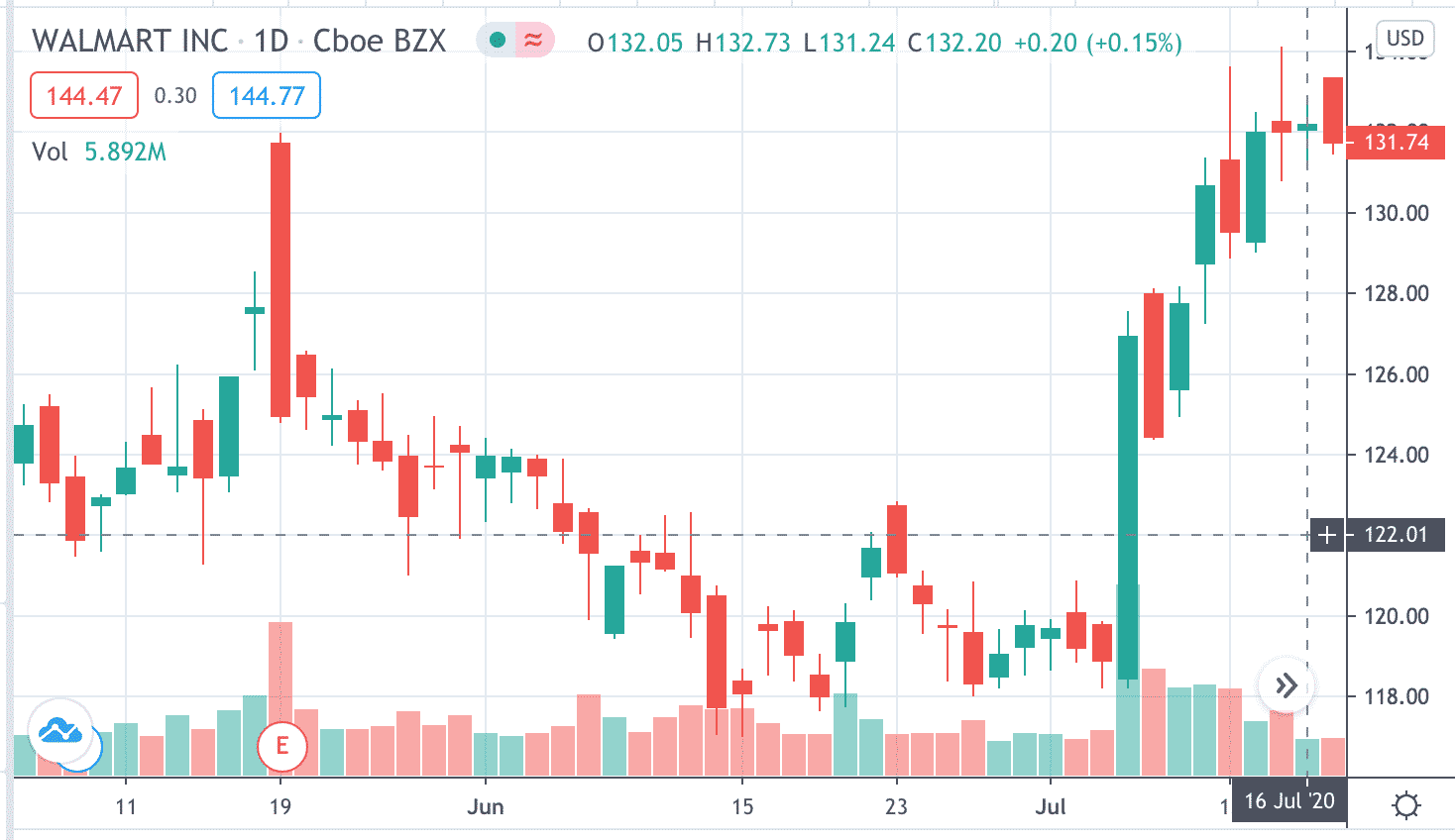 If we had held to expiration, our option would have been exercised. We will have to sell 100 shares of WMT at the price of $122. The problem is that we don't have 100 shares of WMT. So, we will have to purchase 100 shares at market price and the difference is our loss.
($131.74 – $122.00) * 100 = $974 loss from stock sale.
We received $47 credit for selling the call.
Total loss if we held to expiration: $974 – $47 = $927.
This example is using only one contract, the smallest possible size. In a typical trade of 10 contracts, multiple the numbers by 10. Now you know why you should never sell naked calls. This is the reason why a lot of brokers will restrict new traders from selling naked calls.
Covered Call
If we had owned 100 shares of WMT, then it would not be so bad. We would have just sold our existing shares at $122. Based on at what price we had bought WMT, we may or may not be profitable. Selling calls while owning the stock is called a covered call, and is perfectly reasonable.
It is no longer naked because we are covered by having stock on hand. In fact, by owning the stock, you've turned one of the most dangerous strategies (selling naked calls) into one of the least dangerous strategies (selling covered calls). However, a covered call is a bullish strategy and is typically done when we think price of stock is going up, which is not the case of our initial opinion here.
Disclaimer: The information above is for educational purposes only and should not be treated as investment advice. The strategy presented would not be suitable for investors who are ...
more