Don't Trade Naked Calls
The trade is now down –$520.50, and our delta notational has gone way up. Here are our results:
Profit/Loss: –$520.50,
Delta Dollars: -0.7988 * 100 * $126.95 = –$10,140.77.
Payoff Diagram
The following is the payoff diagram for selling a call option. The price of WMT is on the horizontal axis. The profit and loss of the option are on the right vertical axis.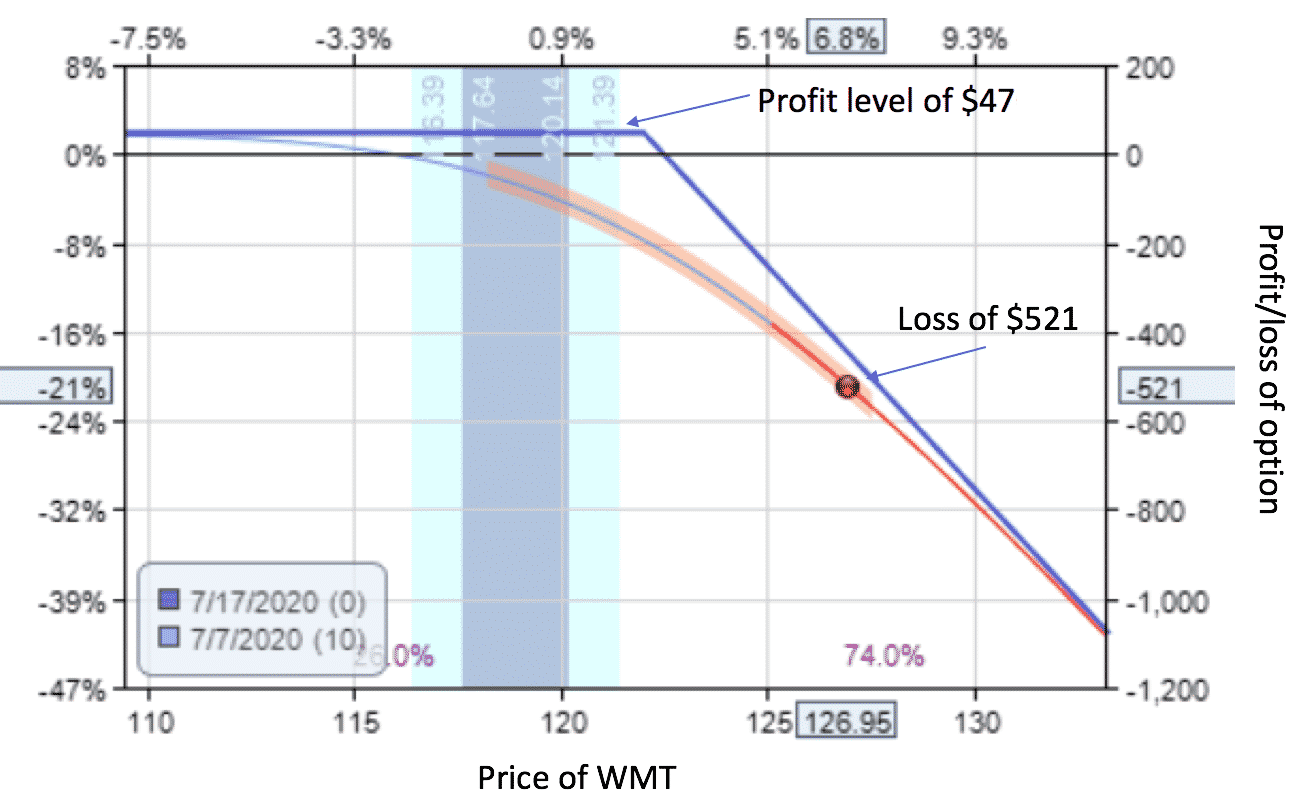 The dark blue line is the profit and loss at expiration. It is known as the expiration line. The curve line is the profit and loss as of the current date. It is known as the T-0 line. As the price of WMT goes down, we make money. If WMT price is lower than $122 at expiration, we keep the full $47 premium received.
The expiration breakeven price is calculated by taking the 122 strike and adding the premium received, which gives $122.47. If the price of WMT goes up, we lose money. The higher the price goes, the faster we lose money. Note that the curve line has an increasingly negative slope as price increases to the right.
In theory, that line does not end, meaning unlimited losses. In reality, there is probably an upper reasonable limit on how high the stock goes before expiration. There is also the possibility that your broker may close the trade for you after you've hit the limit on your margin. What is worse is that this trade has a maximum reward of only $47.
In one day, we have lost 11 times more than what we could have possibly make on this trade. Not a good risk to reward ratio. Think of it as picking up pennies in front of a steam roller.
Just Close The Trade
Because no one will know what WMT will do tomorrow, it is wise at this point to remove any additional risk off the table and close the trade. We don't want WMT to continue upwards and accelerate our losses. To close the trade we have to buy one contract of July 17, WMT $122 call @ $5.67.
Quick math shows the loss to be ($5.67 – $0.47) * 100 = $520. Ouch.
Disclaimer: The information above is for educational purposes only and should not be treated as investment advice. The strategy presented would not be suitable for investors who are ...
more