Discovery In The Amazon
Scanning For AHP Names
To see if a security is also hedgeable with puts against >9% declines, you simply attempt to scan for that kind of hedge using the options expiration date that's close to six months out (in our app, that's the default expiration date). In Amazon's case, that looked like this on Thursday.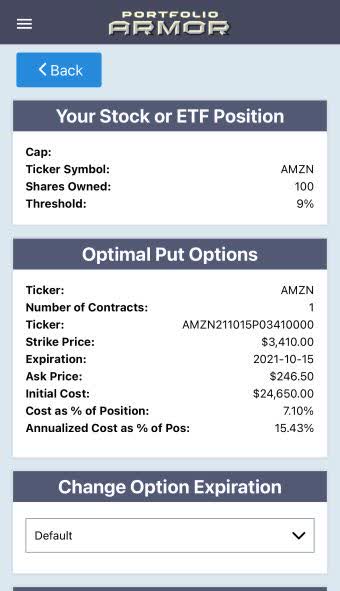 Screen capture via the Portfolio Armor iPhone app as of Thursday's close.
This is essentially a measure of risk: it was possible to hedge Amazon against a >9% decline over six months because the cost of that protection was less than 9% of position value; that the cost of the hedge was relatively low suggests options market participants weren't too concerned about Amazon dropping by more than 9% by then.
Once A Significant Source Of Outperformance
We backtested our basic security selection method by running our analysis every trading day over an eleven-year period and then looking at the actual returns of the securities with the highest potential returns on our daily scans over the next six months. Over that 11-year period, we conducted 25,412 comparisons of our calculated potential returns to actual returns, an average of 9.4 top-ranked securities each trading day. The average actual return over the next six months, unhedged, was 6.84%. The subset of those securities that were AHP generated actual returns of 9.35%on average over 6 months. Without the AHP names, the average performance of the other top names dropped to 6.12% over 6 months. So there was an outpeformance of 3.23% for AHP versus versus non-AHP names.
That AHP outperformance continued after we started posting our top names to our site each trading day in 2017 and tracking their returns in real time over the next six months. Each trading day, as new returns come in, our system adjusts these calibration factors up or down accordingly.
For example, in our previous post, we mentioned that the last time Amazon was one of our top ten names on November 12th of last year. As of that date, AHP names had an average outperformance of 2.74% over 6 months, so our system boosted AHP names such as Amazon in its selection process accordingly.
Disclaimer: The Portfolio Armor system is a potentially useful tool but like all tools, it is not designed to replace the services of a licensed financial advisor or your own independent ...
more