Discovery In The Amazon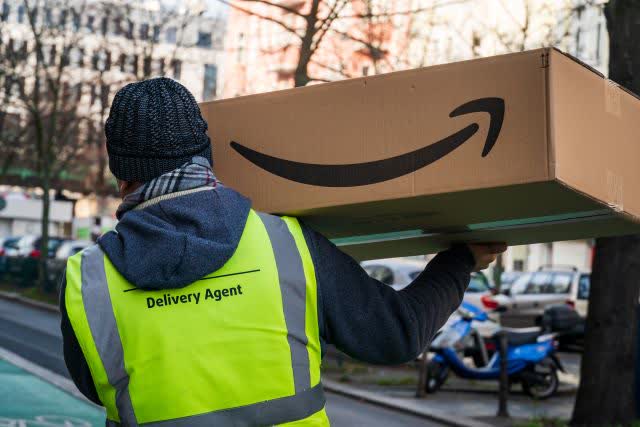 An Amazon delivery agent at work (photo via author's Shutterstock subscription).
Amazon Delivers Blowout Earnings
In our last post, we included this video on how to hedge Amazon (AMZN) ahead of earnings, in case it posted a miss as Mott Capital Management warned it might.
As it turns out, Mott's concerns about AWS (Amazon Web Services) were misplaced. AWS's operating margin was over 30% in Q1.
The oligopolistic retail giant conventional wisdom suggested would continue to benefit from the COVID lockdowns did just that. Nothing surprising there in the end. But in writing our previous post on Amazon, we discovered something interesting.
What Doesn't Work On Wall Street
"What Works On Wall Street" was the title of Jim O'Shaughnessy's classic book on patterns he'd found that delivered strong returns. For example, his "Tiny Titans" strategy screened for cheap (low price-to-sales) microcaps with strong price momentum. Our system looks at price momentum too, but rather than screening for fundamentals, it looks at various gauges of options market sentiment (the reason it doesn't look at fundamentals is that our universe isn't limited to stocks: it also includes fixed income, precious metals, bearish, and other exchange-traded products where equity ratios such as price-to-sales wouldn't apply).
Indicator Flips To Negative
One of our gauges of options market sentiment that signaled outperformance in real time security selection over the last three and a half years in back tests for more than a decade before flipped to being a negative indicator earlier this year. Our system took this into account as soon as it happened, but we didn't notice it until we looked up Amazon on our admin panel before writing our last post and saw this.

Screen capture via Portfolio Armor's admin panel.
The "AHP" in the "w/AHP" column there stands for "Also Hedgeable with Puts". One of our initial screens is that it's possible to hedge a security with an optimal, or least-expensive collar, against a greater-than-9% decline over the six months. "AHP" means it's also possible to hedge the security against the same decline over the same time frame with optimal puts. Seeing that Amazon passed that screen and as a result our potential return for it went down was a surprise.
Disclaimer: The Portfolio Armor system is a potentially useful tool but like all tools, it is not designed to replace the services of a licensed financial advisor or your own independent ...
more