Boeing Shares Have Been On Fire Too
In Case You Don't Want To Pay To Hedge
That said, if you don't want to pay any hedging cost to protect your Boeing position, you can hedge with an optimal collar instead. As of Thursday's close, this was the optimal collar to hedge against the same >20% drop over the same time frame, while capping your possible upside at 20%.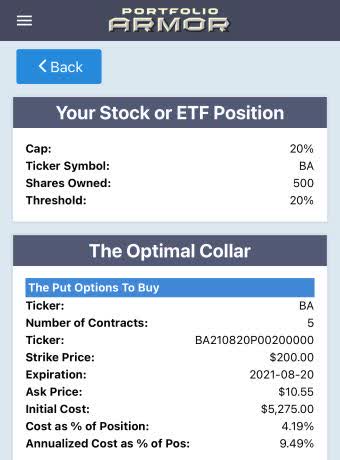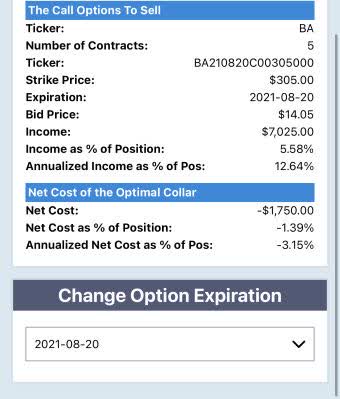 Note that the strike of the put leg in this collar is different from the strike in the previous hedge - the algorithm adjusts both strikes to find the lowest net cost while protecting you against the decline threshold you entered. In this case, that net cost is negative, meaning you would have collected a net credit of $1,750, or 1.39% of position value when opening this collar. That's assuming, conservatively (again), that you placed both trades (buying the puts and selling the calls) at the worst ends of their respective spreads.
*As everyone who's read Michael Crichton's novel "Airframe" knows, Boeing doesn't make engines. Nevertheless, investigations are ongoing to determine why these engines failed on Boeing airframes.