Bitcoin Bounces Back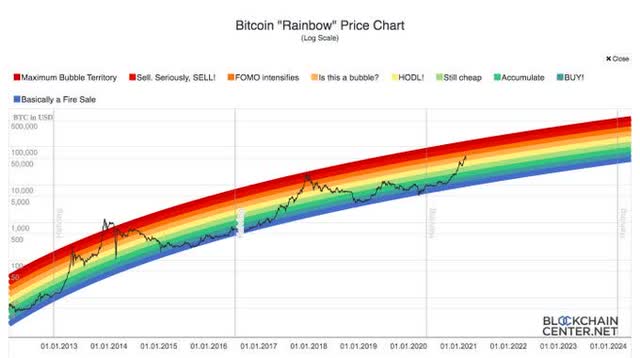 Bitcoin "Rainbow" Price chart shared by Anatoly Karlin this week.
Anatoly Karlin's Bitcoin Prediction
Before the crypto correction on Monday, we wrote about how a future Bitcoin crash could lead to a market crash (How The Next Crash Happens). Basically, a lot of publicly-traded companies add Bitcoin to their balance sheets, and then Bitcoin enters the "long winter" Anatoly Karlin predicted.
This year will see epochal #DeFi boom: BTC $100k, ETH $10k - ending in a bust (dotcom bubble).

Then a long winter, when hardy survivors can be picked up at fire sale prices.

And then, come the 2030s - just like software 20 years ago - crypto will "eat the world." #prediction

— 🇷🇺 ANATꙮLY 🤔 KARLIN (@akarlin88) February 11, 2021
If you missed our post-Monday, Karlin's prediction carried weight with us for two reasons. First, he's a long-term Bitcoin bull. And second, he accurately predicted the impact of COVID-19 last year.
Crypto Corrects
After Bitcoin and the other cryptocurrencies tanked on Monday, in our next post (Crypto Gets Crushed), we asked if Karlin's long winter had come early. We noted our system was still bullish on Bitcoin-related names such as the Amplify ETF Trust (BLOK), Silvergate Capital (SI), MicroStrategy (MSTR), Riot Blockchain (RIOT), and Tesla (TSLA). If you're wondering why we included Tesla as a Bitcoin-related stock there, we did so for two reasons:
Tesla recently added Bitcoin to its balance sheet.
As Dr. Eric Falkenstein recently observed, Tesla is "is clearly correlated with the same sentiment that drives Bitcoin".
Another point we made that post was that an early Bitcoin bust - before evangelists like Michael Saylor got Bitcoin on more corporate balance sheets - would mean the stock market had dodged a bullet.
Our @MicroStrategy World 2021 was a great success, with 22,031 registrants. The #Bitcoin for Corporations program attracted 8,197 attendees from 6,917 different enterprises. All sessions are free & uploaded here, along with our Bitcoin Corporate Playbook.https://t.co/8KKB7m0EvK

— Michael Saylor (@michael_saylor) February 6, 2021