AMC: Another Chance To Be Wrong
Cash Substitutes In Hedged Portfolios
The idea behind minimizing cash in hedged portfolios is this: In a portfolio where every position is hedged according to your risk tolerance, you don't need to hold cash to minimize risk, or to provide dry powder in the event of a crash -- the hedges serve those purposes. So, since cash generates practically no returns in a low interest rate environment, we seek to minimize it, while at the same time reducing the overall hedging cost of the portfolio (we have cash in these portfolios initially because we need to round down dollar amounts into round lots of underlying securities because those are cheaper to hedge). The way we minimize the leftover cash in our hedged portfolios is by putting as much as possible into a "cash substitute": that's a stock or exchange-traded-product that when tightly collared, generates a significantly negative hedging cost.
Specifically, we test each security in our universe by attempting to collar it against a greater-than-9% decline over the next several months while capping its upside at 1% or the current money market yield, whichever is higher. For AMC, that looked like this on Friday.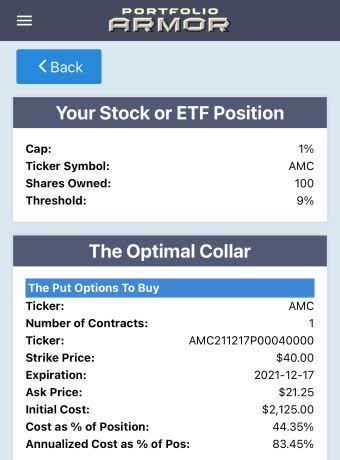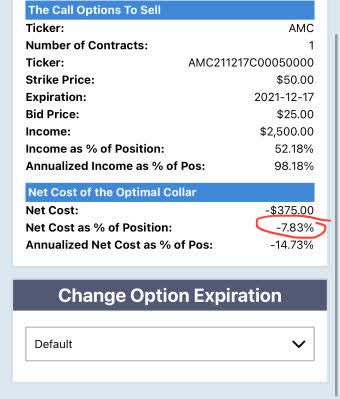 Screen captures via the Portfolio Armor iPhone app.
That hedging cost of -7.83% of position value was one of the ten most negative hedging costs of any of the thousands of securities in our universe on Friday.
Why This Factor Matters
It matters because stocks and exchange traded products that generated large net credits/negative hedging costs when collared that way have dramatically outperformed our other top names in aggregate. As of Friday's close, they've outperformed by an average of about 28.9% over six months. That average takes into account the 6-month performance of every top name we've selected daily since we started tracking this signal in August of 2019. Since then, its average out/underperformance has ranged from about 32% to -6%. It's possible ~32% was the all-time peak and it will be generating underperformance again in the near future; we update the factors we use daily though, so we will adjust our security selection process accordingly.