A Fascinating Way To Trade GameStop
The most that can be lost on this trade is the $4 spent in premium. For 500 spreads, that's $20,000. On the other hand, max gain is at the center of the range, the stock at $200, at expiration. In this case, the payoff would be $66 or $3.3 million.
Now, I doubt the trader is expecting GME to close exactly at $200 but expecting a quick double or triple on this trade is not an unreasonable expectation. As I write this, GME is down to $108 (but it also traded in over an $80 range during the day).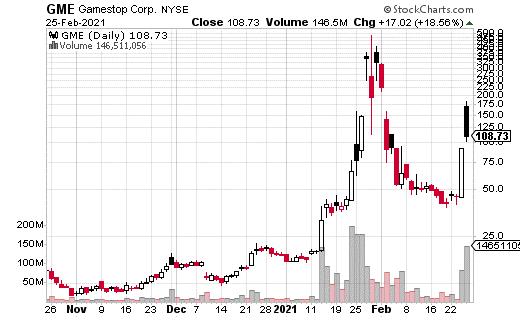 By the time you read this, this trade will have expired. However, there's no reason a strategy like this can't be used again as long as the volatility continues in GME. The risk versus reward profile of the butterfly is undoubtedly attractive.
Disclaimer: Information contained in this email and websites maintained by Investors Alley Corp. ("Investors Alley") are provided for educational purposes only and are neither an offer ...
more