Nose Blind To Inflation
This is most evident in technology. The kind of computer I used back in the 1980s cost about $4,000. The one I have now, on which I do similar work (writing) was about $1,600. So, my computer costs dropped 40%. But no, today's computer isn't remotely comparable to my first one. It is easily a thousand times more powerful. So the price for that much computing power has dropped much more than 60%. It's probably 99.9%.
Louis Gave surfaced another example. According to Consumer Price Index data, a television set that cost $1,000 in 1996 is now $22. You can't buy any such product today, but the fact you can spend the same amount of money and get a better TV depresses the inflation rate.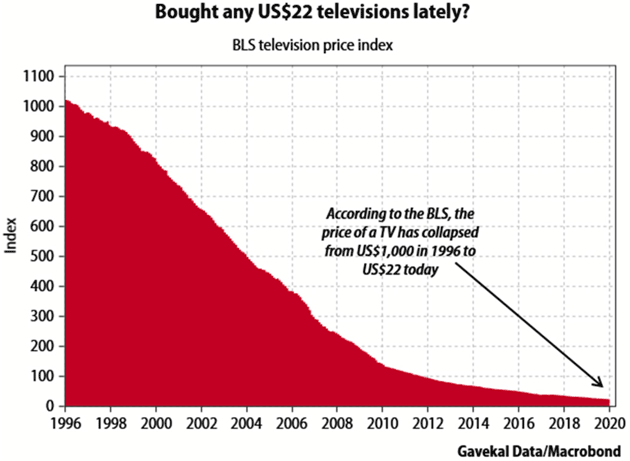 Source: Gavekal
They do the same thing for cars, as Peter Boockvar noted earlier this month.
Last week Edmonds.com said the average price of a new vehicle sold in 2019 was $37,183, a new record high and up 30% from where it was 10 years ago. Within today's CPI, the price of a new car reflected a 2% increase in TOTAL since 2009. This is magically done via hedonic adjustments which discount the value of new add-ons with each subsequent iteration of cars.
Unfortunately, the actual buyer of a car has to pay what the price is and that is why delinquency rates are rising (according to the NY Fed, loans 90 days late totaled 4.7% in Q3, the highest since 2011) and the average length of a loan is at a record high (Experian said in November that 7-year auto loans amount to 31.5% of new vehicle sales vs 10% in 2010). The average price of a car is about 60% of median income in the US and incentives in December were a record amount of $4,600 per vehicle on average according to JD Power.
The Fed relies on hedonically-adjusted data points and not the price that people are actually paying out of pocket.
Exactly. Hedonically-adjusted prices exist only in theory. They don't reflect what people actually have a choice of spending.
Health insurance is another good example. CPI says it rose 20.4% in 2019. That's a national average that could be much more depending on your age and location. But worse, is the policy you can buy now identical to the one available a year ago? Certainly not. It could have a higher deductible, narrower network, smaller drug formulary, and a wide variety of internal differences in coverage for various conditions, which you will never know unless you seek treatment.
The real price change is impossible to know. That 20.4% is a national average of local guesswork, bearing no connection to anyone's reality.
It gets even more complicated. I quoted CPI above. The Federal Reserve actually prefers something called PCE, Personal Consumption Expenditures. The two indexes have different estimates of the appropriate basket. The CPI is based on a survey of what households are buying; the PCE is based on surveys of what businesses are selling. Social Security uses the CPI for adjustments. The Fed uses PCE when targeting inflation. PCE is generally lower, as we can see from the chart below.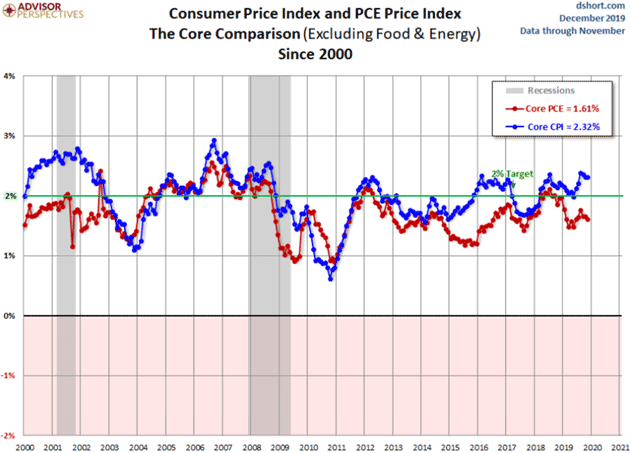 Source: Advisor Perspectives
Meaningless Averages
I mention cars and health insurance because they are two of the larger budget items for most households. And both are broader in reality. The car takes you nowhere unless you also buy fuel, insurance, and maintenance. Health insurance helps only after you pay your deductible and co-pays, which can be substantial.
But housing is the biggest single living cost for most people. Here again, the individual variation is so huge as to render national averages meaningless, even if they were accurate (and they're not).
For instance, if you bought your home years ago with a fixed-rate mortgage, your personal housing inflation rate has been zero. Your monthly payment is the same as it was then. If you have a variable-rate mortgage you might even be paying less for the same house, depending on when you bought it, because your rate dropped.
But housing costs aren't just mortgage payments because a house can be more than housing. If you're lucky, it is also an investment that will give you a profit someday. Meanwhile, you get to use it as your home and avoid paying rent. CPI recognizes this. Its housing component is a combination of average rental rates and something called "owner's equivalent rent (OER)." That's the amount you would expect someone else to pay if you rented your home to them. You are, in effect, "paying" it to yourself.
According to the December 2019 CPI report, "rent of primary residence" rose 3.7% last year and "owner's equivalent rent" rose 3.3%. Those two combined are about 33% of CPI. Do they reflect reality in any significant way?
Disclaimer: The Mauldin Economics website, Yield Shark, Thoughts from the Frontline, Patrick Cox's Tech Digest, Outside the Box, Over My Shoulder, World Money Analyst, Street Freak, Just One ...
more