Nominal Income Targeting And Measurement Issues
(Click on image to enlarge)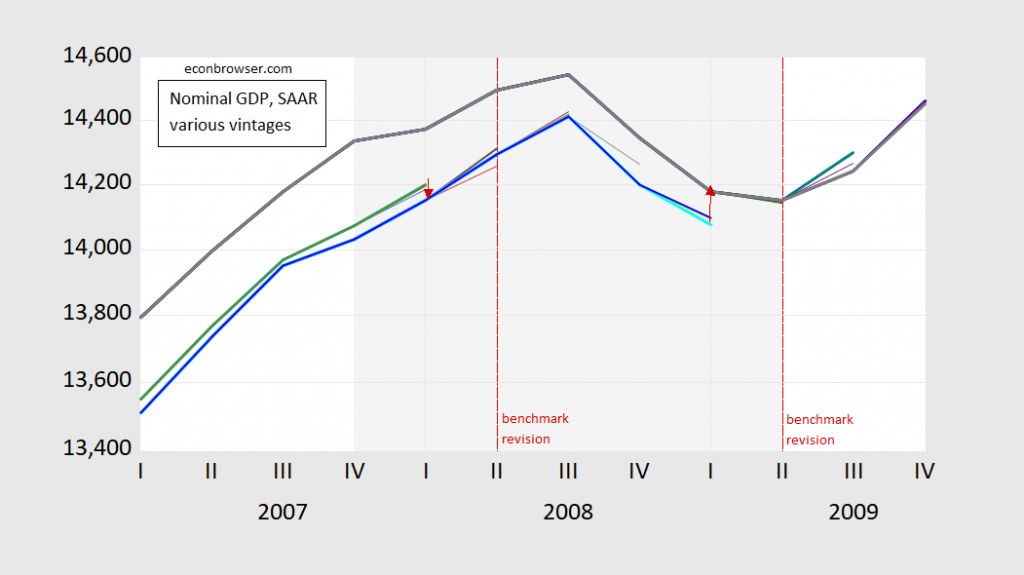 Figure 2: Nominal GDP in billions of current dollars, SAAR, from various vintages. NBER defined recession dates shaded gray. Dashed red line at annual benchmark revisions. Red arrows denote implied revisions to last overlapping observation between two benchmarked series. Source: ALFRED.
Revisions can be large at benchmark revisions, shown as dashed lines in the above Figure. But even non benchmark revision can be large, as in 2009Q3. ( Beckworth (2019) suggests using a Survey of Professional Forecasters forecast relative to target and a level gap as means of addressing this issue — I think — insofar as the target can be moved relative to the current vintage.)
None of the foregoing should be construed as a comprehensive case against some form of nominal GDP targeting — after all Frankel with Chinn (JMCB, 1995) provides some arguments in favor. But it suggests that the issue of data revisions in the conduct of monetary policy is not inconsequential.