The FCC Has Collected Just $6,790 Of $208 Million It Has Fined Robocallers
The Federal Communications Commission has been fighting what seems like a never-ending battle against robocallers for the last several years. Of the $208 million in fines that they have levied against illegal automated callers, they have only collected about $6,790, according to the Wall Street Journal.
Since 2015, the FCC has ordered those who've violated the Telephone Consumer Protection Act to pay fines of $208.4 million, including forfeiture orders in cases that involve robocalling, Do Not Call registry and telephone solicitation violations. The $6,790 collected represents an extraordinarily paltry sum, 0.003% percent of what has been fined.
The total sum secured by the FTC through court judgments in cases involving civil penalties for robocalls or Do Not Call registry violations, plus the sum requested for consumer redress in fraud related cases, has been $1.5 billion since 2004. It has collected on $121 million of that total. This marks about 8%, a number the agency is proud of.
Ian Barlow, coordinator of the agency's Do Not Call program, said:
"That number stands on its own. We're proud of it; we think our enforcement program is pretty strong."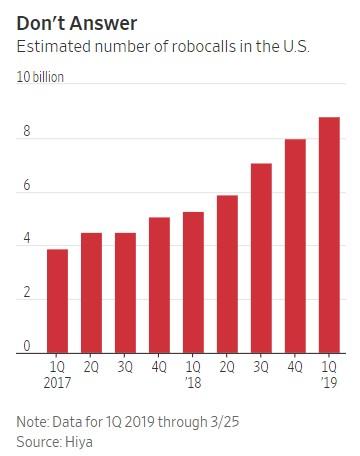 A spokesman for the FCC said that his agency doesn't have the authority to enforce forfeiture orders that it issues, but the Justice Department does. Many of the people that the FCC tries to fine are individuals and small operations, which makes it difficult for them to pay the penalties.
"Fines serve to penalize bad conduct and deter future misconduct," an FCC spokesman said to the Wall Street Journal.
But the inability to collect on these penalties shows the limits that the government has in putting a stop to these illegal calls. In addition, it also shows why the threat of large fines may not be effective in deterring bad actors.
Margot Saunders, senior counsel at consumer advocacy group National Consumer Law Center said: