Sprint, T-Mobile Shares Slump On Reports CEO Legere In Talks To Run WeWork
After pushing out co-founder and (now former) CEO Adam Neumann, it looks like SoftBank is gearing up to hire another outsize personality to take his place. According to WSJ, WeWork is in talks with T-Mobile CEO John Legere to take over as CEO of the embattled office-sharing startup, despite having no pertinent experience in the industry.
According to WSJ, WeWork's parent, the We Company, is looking for an executive who can "stabilize the company following the erratic tenure of its co-founder Adam Neumann." Legere has several critical commonalities with Neumann: He's well-known and widely covered in the business press for his decision to appear in T-Mobile advertisements. He's also one of the highest-paid executives in the telecom space, meaning that WeWork will likely need to shell out for a serious compensation package, one that will almost definitely include generous performance bonuses if he manages to accomplish the seemingly impossible and stave off bankruptcy while leading WeWork to profitability.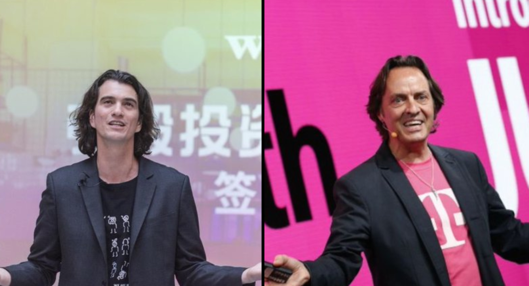 Adam Neumann, John Legere
SoftBank, WeWork's biggest financial backer, has been calling the shots since pushing out Neumann, who was enticed to leave with an eye-popping $1.7 billion exit package.
WSJ described Legere's leadership style as "unconventional", and likened him to Neumann in that regard. We'd dare to take the comparison a step further, and note that like Neumann, Legere's C-suite "superpower" is salesmanship. Though the company could definitely stand to benefit from the touch of a master spin doctor, at present, it's also facing a serious management crisis that will require somebody with serious management chops.
The company is reportedly hoping its new CEO will take over as soon as January.
But we're sure that's nothing a small army of McKinsey consultants can't handle.
Spring S and T-Mobile TMUS shares slumped on the news...
(Click on image to enlarge)
Disclosure: Copyright ©2009-2019 ZeroHedge.com/ABC Media, LTD; All Rights Reserved. Zero Hedge is intended for Mature Audiences. Familiarize yourself with our legal and use policies every ...
more