Melvin Capital Lost A Stunning $7 Billion In January, 53% Of Its Capital; Here's How Everyone Else Did
So what happens next? Well, as the WSJ correctly notes, as part of an aggressive overhaul to the hedge fund industry, "Fewer hedge funds are likely to highlight their bearish positions by disclosing put options... Instead, funds may use Securities and Exchange Commission rules to keep confidential those positions, a tool activist investors have long used to build positions in companies quietly. More funds also may institute rules about avoiding thinly traded, heavily shorted stocks."
Good luck with getting the SEC to agree to confidential "short only" idea dinners especially now that shorting hedge funds have emerged as public enemy #1.
Finally, for those wondering how the rest of the industry is going, here is the Top and Bottom 20 funds summary from the latest HSBC hedge fund report. We the strikingly bad performance by Renaissance - the most profitable and secretive hedge fund in the history of the world - especially notable although we are confident that the loss in the public-facing funds is more than offset by gains for the employee-only Medallion.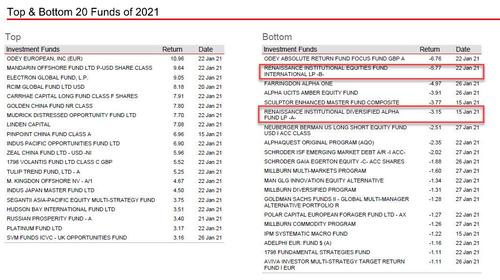 Disclosure: Copyright ©2009-2021 ZeroHedge.com/ABC Media, LTD; All Rights Reserved. Zero Hedge is intended for Mature Audiences. Familiarize yourself with our legal and use policies every ...
more