Melvin Capital Lost A Stunning $7 Billion In January, 53% Of Its Capital; Here's How Everyone Else Did
With the fund now existing only on daily life support and the continued goodwill of Griffin and Cohen, it is hardly a surprise that it had to massively degross (i.e., sell all potentially problematic positions):
Melvin has massively de-risked its portfolio, said a client. People familiar with the hedge fund said its leverage ratio—the value of its assets compared with its capital from investors—was the lowest it has been since Melvin's 2014 start. They also said the firm's position-level liquidity, or its ability to exit securities in its portfolio easily, had increased significantly.
Alas, none of that matters. As we noted earlier today, the massive damage that some hedge funds sustained last week (and while some hedge funds indeed profited from the short squeeze, most lost money as Goldman noted last night "The typical US equity long/short fund returned -7% this week and has returned -6% YTD") will now spark a massive redemption wave:
Here's the problem: the short squeeze led to massive losses for some funds. It may or may not be over. But now come the redemption requests and funds will see billions cash out, forcing them to liquidate top longs (GS VIP basket)
Confirming this, the WSJ also wrote that Maplelane Capital - the hedge fund which we first said last week could be the next Melvin - ended January with a roughly 45% loss. It managed about $3.5 billion at the start of the year.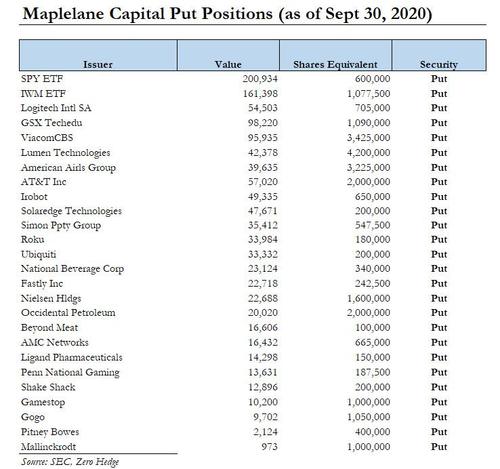 D1, which incidentally last August invested $200 million in Robinhood, ended the month down about 20%, was short AMC and GameStop, said people familiar with the fund. One of the people said D1 had exited both positions by Wednesday morning but that those were small drivers of losses. A more significant factor was shares of travel-related companies declining.
And while mounting redemptions are a clear problem, an even bigger problem is what happens to the short squeeze, because if it continues there is now a risk of a broader market selloff as Goldman cautioned last night, noting that "Unsustainable excess in one small part of the market has the potential to tip a row of dominoes and create broader turmoil."
Disclosure: Copyright ©2009-2021 ZeroHedge.com/ABC Media, LTD; All Rights Reserved. Zero Hedge is intended for Mature Audiences. Familiarize yourself with our legal and use policies every ...
more