JPMorgan's Top Metals Trader In The Crosshairs For Illegal Manipulation
Michael Nowak, the global head of trading for both base and precious metals at JP Morgan Chase, has been charged by the US Justice Department for his role in an illegal market manipulation operation. Executive Directors Gregg Smith and Christopher Jordan were also indicted.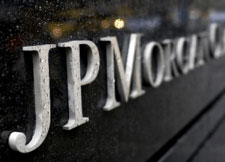 The three are the latest targets in a widening DOJ criminal probe.
Nowak and Smith and Jordan are the third, fourth and fifth persons to be charged in the criminal price rigging scheme at JPMorgan. They may not be the last. The bank is the most infamous amongst precious metals investors who have been crying foul over obvious price manipulation for years.
Christian Trunz and John Edmonds, who worked for Nowak, have already pleaded guilty and agreed to cooperate with the investigation. They have outlined an operation that spanned nearly a decade and "thousands" of fraudulent trades. They have said their training in the dark arts of rigging prices and cheating clients was provided by more senior bank executives.
They were likely referring to Nowak, who is the highest placed executive set to face the music thus far.
Should Nowak also plead guilty and provided evidence against his superiors, things will get even more interesting. It would signal the matter isn't going to be handled in the usual way, i.e. with some lower-level staffer taking the fall – and regulators pretending the problem has been addressed.
Traders at Bank of America and Deutsche Bank have also pleaded guilty to spoofing. Evidence shows them working together with their peers at other bullion banks, including JPMorgan, to cheat their respective clients.
The picture emerging is not one of traders at competing banks striving to serve clients well and win business, though that is what naive clients expected. Instead, bankers placed bets against their customers. Then they used their weight in the markets and called in favors with friends at other banks to assure they won those bets.