IPO Preview: Ra Pharmaceuticals
Ra Pharmaceuticals (RARX) filed its S-1/A with the Securities and Exchange Commission, announcing its intention to offer 5.8 million shares at an expected price range of $12 to $14. The company has an additional 870,000 shares over-allotted as an option for its underwriters. The underwriters for the offering are Credit Suisse, Jefferies, BMO Capital Markets and SunTrust Robinson Humphrey.
Business summary
Founded in 2008 and based in Cambridge, Massachusetts, Ra Pharmaceuticals is a clinical-stage biopharmaceutical company that has a proprietary peptide chemistry platform that it uses to develop treatments for uncontrolled activation or excessive activation of a part of the immune system called the complement system.
The company is developing a treatment for paroxysmal nocturnal hemoglobinuria, or PNH, which is a rare blood disorder that is also life-threatening. People who have PNH have complement systems that target and destroy their red blood cells.
The lead candidate that Ra Pharmaceuticals has for the treatment of PNH is RA101495, which has completed its Phase I trials. The company expects to initiate the Phase II trials in the first quarter of 2017 with data to be released in the second half of the year.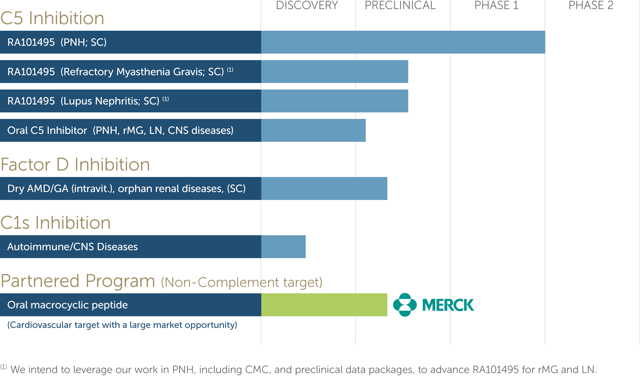 (Source)
Executive management team
The chief executive officer and a member of the board of directors, Douglas A. Treco, Ph.D. has served in those capacities since Ra Pharmaceuticals was founded in June 2008. Treco has substantial experience with product development within the biopharmaceutical industry. Between Jan. 2008 and May 2014, he was an entrepreneur-in-residence with Morgenthaler Ventures. He co-founded a biopharmaceutical company named Transkaryotic Therapies Inc. in 1988. (It was later acquired by Shire Pharmaceuticals in 2005.)
He has also worked as a lecturer at Harvard University in genetics from 2004 to 2007 and worked as a visiting scientist at Massachusetts General Hospital in the molecular biology department. He holds a Ph.D. in molecular biology and biochemistry from the State University of New York, Stony Brook. He also completed postdoctoral studies at both Massachusetts General Hospital and the Salk Institute for Biological Studies.
Disclosure: I/we have no positions in any stocks ...
more