Eurozone: Flip-Flopping Towards Recovery
Order books filling up
Source: Refinitiv Datastream
Pipeline price pressures
With strong international demand for goods and strained supply chains leading to increased prices for commodities, intermediate goods and transport, it doesn't come as a surprise that selling price expectations in industry jumped in March to the highest level since 2011. But in construction, retail and even in the services sector, selling price expectations have also increased. So pipeline price pressures are becoming more important, especially in manufacturing.
At the same time, we believe that supply chains will normalise in the course of the year, once inventories have been replenished. Energy prices are also not expected to rise significantly further from today's levels, given the important spare capacity. And it still seems too early to expect that a spike in inflation will immediately set in motion a price-wage spiral. The most recent wage agreement in Germany, one of the leading countries in terms of the recovery, actually remained rather subdued.
Expected selling prices survey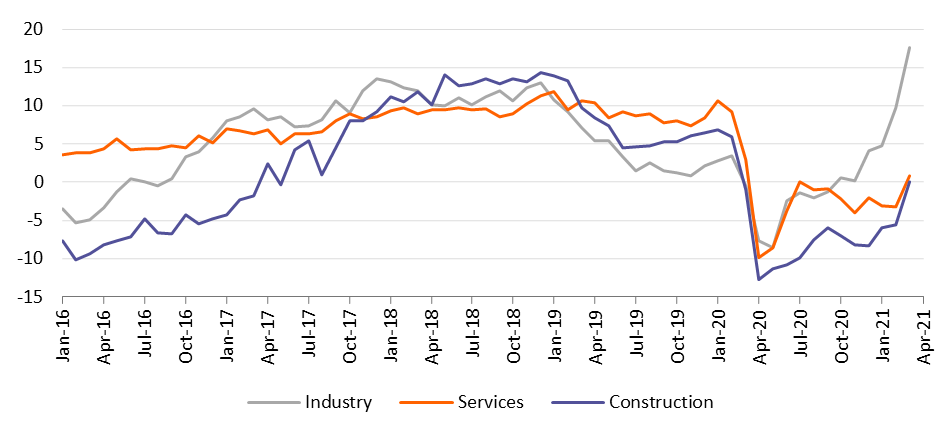 Source: Refinitiv Datastream
ECB remains supportive
The European Central Bank has already stated that it will look through the price increases this year and that the economy still needs support. For the time being, this support is focused on preventing a preliminary steepening of the yield curve. However, as the recovery takes hold, the ECB will reassess financial conditions. Board member Isabel Schnabel stated that as the economy recovers, real and nominal long-term rates will gradually rise in tandem with the real equilibrium rate, though this could not be considered monetary tightening. We stand by our conviction that some increase in bond yields is likely, with the German 10-year bund yield leaving negative territory within 12 months.
Read more in our April Economic Update: Bigger things than the Suez ship are still firmly stuck in the mud.