Cocaine And Cash: How Maduro Stays In Power
"Cocaine, Payola" reads the headline of a new Bloomberg report detailing why and how Venezuela's top military brass will likely remain loyal, at least for the near term, to the Nicolas Maduro regime. As intense international pressure led by the United States builds aiming to topple Maduro in favor of "interim president" Juan Guaido — and as what's now an "open secret" of Washington's direct attempts at fostering a military coup — a key question is just how cohesive and loyal will the military remain.
Like with other recent US attempts at seizing upon civil unrest to effect a political outcome through covert means, notably in Syria for example, it is unlikely that the government will fall without the army changing its loyalty from the top down. While the lower ranks of the Venezuelan army attempt to survive on what amounts to $10 a month, the generals remain fiercely loyal as they live large on personal criminal fiefdoms granted by Maduro in the form of "narco-state" perks ranging from drug-running, contracts for hundreds of social housing projects, overseeing ports, money laundering, to fraud. Per the Bloomberg report:
Vladimir Padrino is Venezuela's defense minister. Gerardo Rangel is a major general in the army. Nestor Reverol is a former National Guard commander who oversees the Interior and Justice Ministry. They are also, according to the U.S. Treasury, drug runners and graft-schemers who operate within the criminal enterprise that is the Nicolas Maduro regime.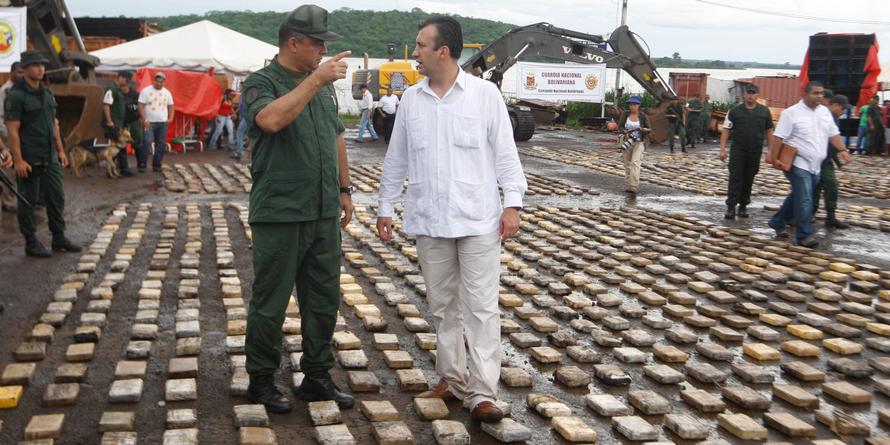 Reuters: Venezuela's then interior minister, Tareck El Aissami, right, walks over confiscated cocaine packs presented to the media in Puerto Ordaz in the southern state of Bolivar, June 26, 2011.
"If Maduro falls, they fall" as one analyst cited the damning report puts it. The military commanders' fates have been so integrated into Maduro's own political survival that even if lower or middle ranking officers defect, "It would be extremely naïve to think they [the generals] are going to do something different" — given further this state of things goes back to Maduro's mentor Hugo Chavez.
Disclosure: Copyright ©2009-2018 ZeroHedge.com/ABC Media, LTD; All Rights Reserved. Zero Hedge is intended for Mature Audiences. Familiarize yourself with our legal and use policies every time ...
more