China's Employed Population Shrinks For The First Time Ever
China's imminent, and historic conversion from a current account surplus to deficit nation is not the only "tectonic shift" taking place in the world's most populous nation. According to the latest census data from its National Bureau of Services, China's employed population has shrunk for the first time ever on record, and at the end of 2018, the number of people employed fell to 776 million, a drop of 540,000 from 2017.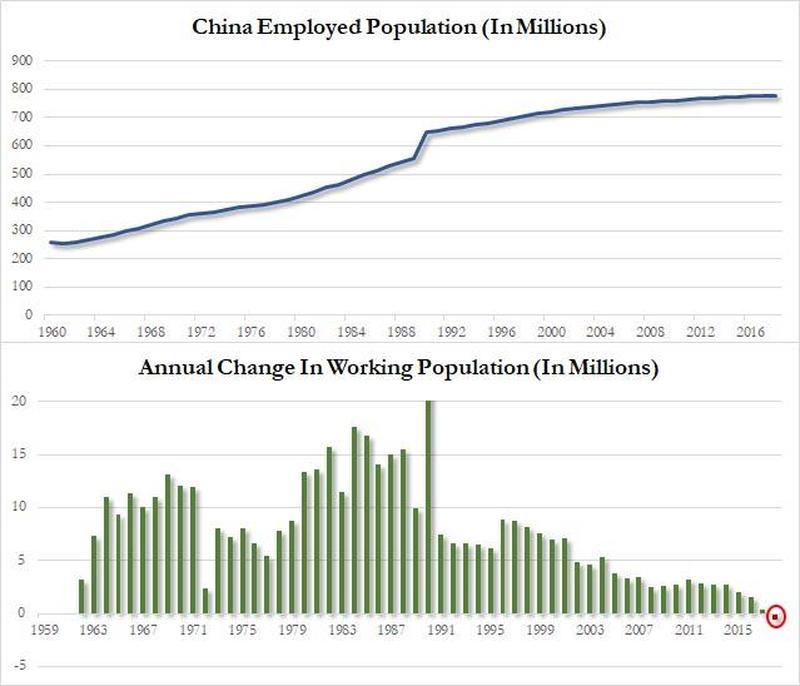 Meanwhile, in yet another sign that China's population is aging rapidly, the broader working-age population, or people between the ages of 16 and 59, also shrank for the seventh consecutive year, down a total of 2.8% from 2011 to 2018 according to Caixing. Last year's China's total working-age population stood at 897 million, down 5 million from 902 million in 2017, according to the NBS.
Li Xiru, director of the Population and Employment Department at NBS, warned last month that the employed population would further drop in the coming years.
While China is already beset with a myriad of economic and asset price bubbles, most notably a massive corporate debt load and a still gargantuan shadow banking system both of which it has to balance against an unprecedented housing bubble to avoid a collapse in the financial system sparking a "working class insurrection", the country's shrinking work force creates even more headaches for officials as it pushes up labor costs, sparking inflationary pressures and placing more strains on an economy already struggling against external headwinds.
As China Daily reported recently, the shortage of workforce means labor cost will continue to increase and industrial transfer and technology will substitute workers. And since university graduates - who expect far higher wages - account for nearly half of the labor force entering the market, the market is unable to provide traditional industries with the required number of workforce and the past high-input economic development mode is unsustainable.