Amid Soaring Food Prices, Vietnam And China Buy Indian Rice For First Time In Decades
One month ago, we reported that SocGen's bearish analyst Albert Edwards, who is traditionally well ahead of the curve, looked at charts of soaring food prices and was starting to "panic."
Edwards' research report concluded by urging his readers to "keep a very close eye as to whether we see a repeat of the 2010/11 surge in food prices" because "on the 10th anniversary of the start of the Arab Spring, and with poverty having already been made much worse by the pandemic, another food price bubble could well be the straw to break the very angry camel's back."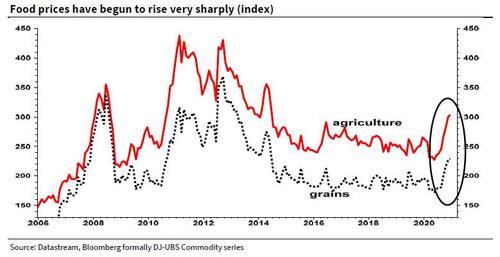 And while it's not quite the spring of 2011 just yet (give it a few months) it's getting dangerously close.
As Rithesh Jain from the World out of Whack blog writes, citing an article in the Reuters, "Vietnam, the world's third-biggest exporter of rice, has started buying the grain from rival India for the first time in decades after local prices jumped to their highest in nine years amid limited domestic supplies."
"For the first time we are exporting to Vietnam," B.V. Krishna Rao, president of the Rice Exporters Association, told Reuters on Monday. "Indian prices are very attractive. The huge price difference is making exports possible."

Dwindling supplies and continued Philippine buying have lifted Vietnamese rice export prices to a fresh nine-year high.

Vietnam's 5% broken rice is offered around $500-$505 per tonne, significantly higher compared to Indian prices of $381-$387.
This means that, as we have been warning for the past few months, food inflation is indeed back with a vengeance:
The purchases underscore tightening supplies in Asia, which could lift rice prices in 2021 and even force traditional buyers of rice from Thailand and Vietnam to switch to India – the world's biggest exporter of the grain.
Indian farmers and exporters are the big beneficiaries.
Disclaimer: Copyright ©2009-2021 ZeroHedge.com/ABC Media, LTD; All Rights Reserved. Zero Hedge is intended for Mature Audiences. Familiarize yourself with our legal and use policies every ...
more