New Jobless Claims Continue Strong Decline, Consistent With Ongoing Recovery, While Continuing Claims Continue Mixed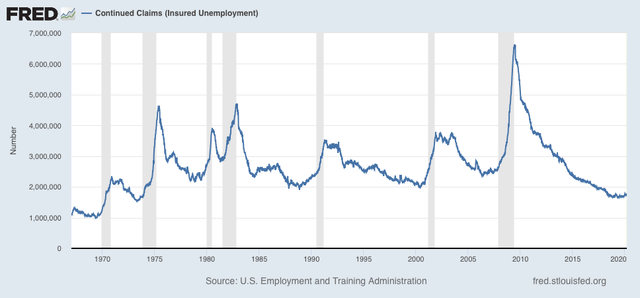 I am not sure if the recent strong declines in new jobless claims will continue from here, as we approach past levels of full or nearly full employment. The issue with continuing claims has become more complex, as unadjusted claims show a slowly declining trend, while after adjustments they have essentially been flat since the beginning of March. The picture has become much more clouded as half of the States have announced early terminations of supplemental pandemic benefits for ideological reasons.
Finally, as I wrote two weeks ago, March's employment gains may have been more of an outlier than April's. If we simply averaged the 2 months together that would be an average jobs gain of 518,000, then the continued big decline in initial claims would give us a May jobs gain of over 500,000 when that report is issued tomorrow. There may also be big revisions to March and April's numbers as well. We'll see.
Disclaimer: This blog contains opinions and observations. It is not professional advice in any way, shape or form and should not be construed that way. In other words, buyer beware.